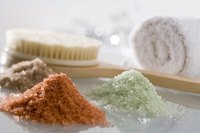 How to Make Fizzing Bath Salts. There is nothing quite like a hot bath after a long hard day to help relieve stress and relax muscles. But you can transform your ordinary bath into a fun fizzing aromatherapy session. Fizzing bath salts are not only a nice way to pamper yourself, they are also a fun treat for children and a fantastic gift for almost any occasion.
Things You'll Need
Sea salts
Baking soda
Citric acid
Essential oils
Jar with tight fitting lid
Measure 3 tbsp. of sea salts into a mixing bowl. Healing sea salts can soothe skin conditions, such as psoriasis and eczema, and exfoliate the skin, leaving you with a healthy glow. They also can improve circulation and help to relieve sore, tired muscles.
Add the fizz. Measure 3 tbsp. of baking soda and 1 tbsp. of citric acid to the bowl and stir the ingredients together.
Choose one or more essential oils for your fizzing bath salts and add 8 drops to your mix. Choices include vanilla, chocolate and coffee, which simply smell great, or others which have healing effects. Consider lavender for reducing stress, tea tree for its antiseptic and antifungal qualities or chamomile to help you sleep.
Stir your fizzing bath salts until the ingredients are evenly distributed and pour the salts into a jar with a tight fitting lid. Keep your salts in a cool, dark location, as heat and sun can destroy the natural healing elements of your essential oils.
Spoon 1 or 2 tbsp. of salts into a hot tub, relax and enjoy.