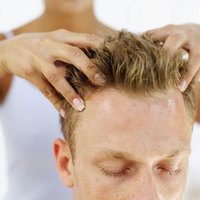 How to Make Natural Honey Hand Cream. Soothing, all-natural hand cream leave your hands looking young, feeling soft and smelling beautiful. Luxury hand creams and skin care items often cost a small fortune at your local grocery store, especially those all natural and organic blends. But now you can pamper yourself by making your own honey hand cream in the comfort of your kitchen. It's fun, affordable and great for your skin.
Things You'll Need
Double boiler
1 tablespoon apple cider vinegar
2 teaspoons beeswax
1 tablespoon all natural honey
1 teaspoon avocado oil
1 teaspoon almond oil
3.5 ounces of rose water
1 4-ounce sterilized jar with a tight fitting lid
Heat the apple cider vinegar in a double boiler until it begins to simmer at the bottom of the pan. Apple cider vinegar helps to balance the pH of the skin and it is a natural astringent and antiseptic, helping to heal and gently cleanse. Perfect for everyday skin care, even better for application to sunburns, scrapes and cuts, the apple cider vinegar will help keep your skin healthy and beautiful.
Cut 2 teaspoons of beeswax in small pieces if you have purchased in block form, or add 2 teaspoons of pellets to the simmering vinegar if you have purchased in pellet form. Stir constantly to prevent burning. The beeswax in your honey hand cream will help to moisturize your skin and will also protect the mixture from going bad.
Stir in one tablespoon of all natural honey. You should use natural, runny honey and not the spun variety. Honey not only smells great, but it helps moisturize your skin. Used in many skin care products, honey is antibacterial and will help form a protective layer on your skin.
Add one teaspoon of avocado oil and one teaspoon of almond oil. Avocado oil and almond oil quickly absorb into the deep tissues of the skin, making them incredible moisturizers. Avocado contains sterolins, which can reduce age spots and scarring. Almond oil promotes healthy blemish free skin and helps to relieve aches and pains.
Pour in 3.5 ounces of rosewater. Rosewater is a natural toner and will help keep your hands looking young and beautiful. You can buy rosewater, or make your own by simmering 1 cup of fresh rose petals in one and a half cups of distilled water for 10 minutes and then straining the flowers from the water.
Allow the mixture to cool enough to pour into your jar, and enjoy your new healing honey hand cream. Remember to shake the jar well before using, and apply daily for the best results.