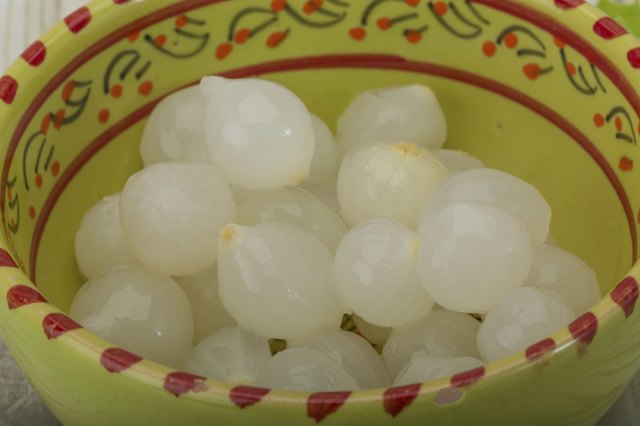 Pickled onions create a space for themselves in your dishes when you learn to make your own. Adding tart red-onion rings to a hamburger, introducing peppery pearls to a braised dish in the last few minutes of cooking or mixing sharp shallots in a casserole provides a pleasant piquancy that perks the palate.
Sweet to Mild
Sweet onions and mild onions a bit on the sweet side usually come into season in spring and summer,depending on the climate. Scallions, white, cippolini, maui, Walla Walla, shallots and pearl onions have thin skins and a lot of moisture, so they develop a tart taste faster than hardy winter varieties. Pickle small varieties, such as shallots, scallions and pearls, whole for a toothsome, substantial bite.
Moderate to Pungent
Winter-hardy onions have thicker skins and less juice than warm-season varieties, but tend to have more crunch. Spanish, yellow and red onions take about two weeks to develop a complex, pickled taste, but stay firmer longer than spring and summer onions. Spanish, yellows and reds have moderate to pungent flavors and aromas, depending on the specific cultivar, but you can expect a strong taste with each. Slice winter-hardy varieties into 1/4- to 1/2-inch-wide rings or slices for pickling.
Choosing a Vinegar
Vinegar flavor plays as important a role as onion variety does in pickling. Any vinegar, with exception of balsamic, has the acetic acid needed to pickle and preserve, so select a flavor according to your tastes. Malt vinegar gives shallots an unmistakeable British touch redolent of pubs, fish and chips and ale. Champagne vinegar, with its light, fruity taste, combines seamlessly with the delicate taste of white pearls onions, whereas bold, hearty, sherry vinegar stands stout against pungent yellow onions.
Secondary Flavorings
Aromatics and spices play a supporting role, but one that can't go unfilled. Don't limit the spices and aromatics to the usual suspects -- bay leaves, black peppercorns and mustard seeds -- but don't neglect them; each have strong antimicrobial properties. Try star anise, cinnamon sticks, cloves, juniper berries and black peppercorns with sweet cool-season onions. For hardy, pungent varieties, try crushed garlic, bay leaves, mustard seeds, caraway seeds, black peppercorns, red peppercorns and, if you like heat, a Thai chili pepper, sliced in half lengthwise. Add herbs as you wish. There isn't an herb that can overpower the piquant-pungent combination of vinegar and onions, so add them to taste. Rosemary, sage, thyme and oregano all work.
The Technique
Peel and slice the onions as needed and pack them into a glass canning jar with the aromatics and spices. Bring 1 cup each water and vinegar along with 1 tablespoon of salt and 1/2 cup of sugar to a boil for every pound of onions. Pour the vinegar mix over the onions until covered. Leave about 1/2 inch of headspace at the top of the jar. Seal the jar, let it cool to room temperature and store it in the refrigerator for five to seven days before serving.