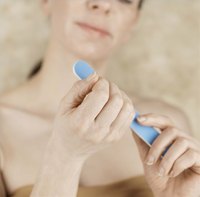 How to Deal With Thin Finger Nails. Having thin fingernails is a problem that many people deal with daily. It can become bothersome and annoying when you work a lot with your hands. It can also be an embarrassment aesthetically when you want to or need to show off your hands. With a little information and the right products, you can learn how to deal with thin fingernails.
Wear gloves every time you do housework or anything that causes your nails to come into contact with liquids. Liquids or chemicals can cause thin nails to become weaker and softer.
Apply a thin coat of clear nail hardener every night before going to bed to help strengthen your natural nail. Take it all off and reapply a new coat every seven days. Your nails need to "breathe" between applications.
Get a nail acrylic overlay done at a professional nail salon. The acrylic will act as a barrier over your natural nails to strengthen and prevent them from breaking.
Take a multivitamin pill and a biotin tablet or powder once to twice a day. The extra vitamins will help strengthen nails and will help strengthen hair too. An extra bonus!
Keep thin nails trimmed short, close to the natural nail line while you are strength conditioning them.
Use a buffer instead of a file to manicure nails. The file will "saw" the nail, while the buffer will enhance the nails' natural oils.
Eat plenty of raw vegetables. The minerals in vegetables will increase the body's iron stores, which will help strengthen the nails.