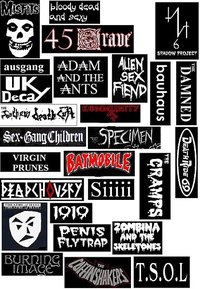 Ever wanted a certain band's patch to sew on your jacket but can't find one? There's a very simple solution for this: make your own! It's easy, inexpenisve, and adds a unique flair to any garment.
Things You'll Need
iron-on transfer printer paper
denim material (both supplies can be attained at Wal-Mart or Office Depot)
a clothing iron
the internet (I assume you have that)
Do an image search on the internet for a band you want to make a patch for. For example, if I wanted to make an Ausgang patch, I'd go to google, images, and search for "Ausgang logo". Save any images to your PC.
Open any images in an image-editing program. Resize them to the size you want your patch to be. You can also place a few "patches" at the same time on one sheet of paper, to save space. (Don't make your images as small as I did in the picture. They turned out REALLY tiny)
Once you're satisfied with how the images look on screen, print them out on iron-on transfer paper. (make sure to follow the instructions that come with it)
Cut out your images individually; that way you can place them wherever you want. Peel off the back of the transfer paper, then place your cut-out images on a piece of denim material (you can also buy denim made-for-patches material at Wal-Mart and other stores). Following the instructions for the iron-on paper, iron your images onto the denim.
Once that's done, you can cut the denim material into square patches. Voila!