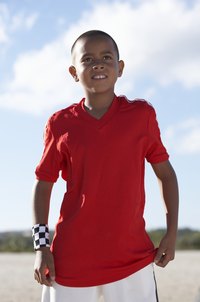 When your child's red T-shirt comes out of the dryer looking, well, a little less vibrant, don't let your hopes for restoration fade with the color. The good news is that cotton is a natural fabric that dyes well. While you can't bring back the original hue, you can add additional color to the shirt so that it looks fresh instead of fallen. The key is to use a permanent red dye and pair it with some patience. Getting the color as it was may take a few tries, but you can certainly bring that faded T-shirt back to a fashionable state.
Things You'll Need
Red clothing dye, liquid form
4 cups hot tap water, if using a front-loading washer
Spoon
Tongs
Mild detergent
Towel
Top-Loading Washer
Set your washing machine to hot water. Fill the basin a quarter full and stop the flow.
Pour a quarter to a half of the dye into the water, if you're using Rit fabric dye. Otherwise, look at the manufacturer's instructions to see how much dye you need for a piece of clothing that weighs less than a pound.
Fill up a sink with hot water. Plunge the T-shirt into the water using tongs to push it down. Lift it out of the water using the tongs and allow it to drip dry for a minute.
Add the shirt to the washing machine and set the machine to an extended wash cycle with a cold rinse. This is important because the dye needs enough time to penetrate the shirt before the rinse cycle begins. Reset your machine if the cycle ends before 30 minutes.
Reset the washer to a small load with warm water. Add a mild detergent to the cycle and place the rinse cycle on cool.
Lay a towel on a flat surface. Take the shirt out of the washer and place it on the towel, smoothing out any wrinkles. Allow it to air dry.
Front-Loading Washer
Mix the liquid dye into 4 cups of hot tap water and stir the mixture with a spoon.
Fill a sink with hot water. Add the T-shirt to the water and plunge it into the water using your tongs. Lift the shirt out, allow it to drip dry and place it into the washer.
Turn your washer on to the hottest water setting. Pour the dye mixture into the washer's detergent dispenser. After the dye has entered the washer, flush the dispenser with another 4 cups of hot water.
Set the machine to an extended wash cycle. Uncrumple the shirt and place it into the machine.
When the wash cycle has ended, add a mild detergent to the dispenser and wash the shirt in a warm cycle with a cool rinse to get rid of any leftover dye.
Lay the shirt on a towel and smooth out any wrinkles. Allow to air dry.