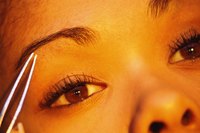 Carefully shaped eyebrows make eyes pop and cheekbones stand out. Shaping eyebrows is one of the quickest ways to naturally open the eyes without makeup. Cleaned and groomed eyebrows also create a polished and professional look for both work and personal environments. Although the initial shaping process is best left to a professional, getting that soft, natural arch in your eyebrows requires only a few guiding points to create the elegant lines you desire.
Things You'll Need
Unused, clean mascara wand or eyebrow brush
Fine-point tweezers
Eyebrow pencil
Cuticle scissors
Brush the eyebrows out toward your temples to smooth any uneven hairs.
Hold your tweezers vertically. Place the tweezers parallel to, and along, the bridge of your nose on the right side. Your eyebrow should begin where the tweezers hit the hair.
Use an eyebrow pencil to mark where your eyebrow should begin. Repeat on your left brow.
Place the tip of the tweezers on the outer edge of your lower lash line so that the tweezers follow the slight angle of the lash line. The tweezers should lay at an angle on the side of your face pointing slightly up toward your temple. Your eyebrows should end where the tweezers hit the hair. For those with sparser eyebrows, you may need to fill in this area near the ends with a pencil or eyebrow filler.
Mark where your eyebrow should end and repeat on the opposite side.
Look straight into a mirror and place the tweezers vertically over your eye just outside the iris of your eye. The point at which the tweezers hit your eyebrow is where you want the highest part of the arch to sit. Mark where the arch should curve. Repeat this process on the other eyebrow.
Fill in the eyebrows using your marked guide points. You can use powder and an angle brush or an eyebrow pencil to fill in the brow in the marked shape with tiny hairlike dashes. Remember that the bottom edge of the eyebrow is where much of the reshaping will take place, but this bottom edge should gently mimic the top of the arch.
Begin to remove hairs that fall out outside of the filled-in and marked eyebrow shape. Grab a single hair at a time with the tweezers. Grab the hair near the root so you know which hair you are plucking and where the body of the hair falls, so you don't end up with unintended bald spots.
Back away from the mirror after plucking a few hairs to ensure that you are plucking the desired shape.