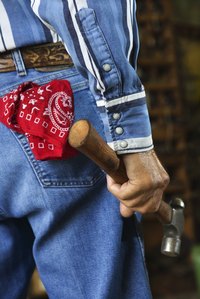 The classic three-piece suit has always been a style staple. If you want to dress down that traditional look then wearing a crisp, clean shirt and a smart vest can be just the trick for a classy but casual event, such as a beach wedding or a cocktail hour. Handkerchiefs serve as the perfect cloth to create a pocket square that fits snugly and gracefully in the pocket of a vest. Pocket squares create an immediately cleaner, fresher look with little effort and to great effect.
One-Pointed Fold
Lay the handkerchief on a flat, clean surface with one of the corners sitting closest to you so that the handkerchief looks like a diamond.
Fold the bottom half of the diamond up to meet the top half of the diamond and press flat so that the handkerchief is now in the shape of a triangle.
Fold the left corner of the triangle over the center of the diamond so that the left corner will sit about two-thirds of the way over on the triangle on the right-hand side.
Fold over the right corner of the handkerchief so that it meets the clean edge created by the fold in the previous step. You should now have three sides of a square with the fourth side of a triangle pointing up.
Place the folded handkerchief into the vest pocket with the point facing up. Rearrange the fabric, if necessary, to ensure that the fabric is smooth in the pocket.
Tousled Fold
Lay the handkerchief on a flat, even surface.
Grab the center of the handkerchief with your index finger and thumb. Run your other hand over the length of the handkerchief to smooth out the fabric. Grab the handkerchief with this hand about 2/3 of the way down closest to the hanging corners of the handkerchief.
Turn the handkerchief upside down so that the gathered corners are now facing up.
Stuff the handkerchief into the vest pocket with the original center of the handkerchief going into the pocket first and the loose corners of the fabric sticking out of the pocket. Rearrange the fabric so that it sits comfortably.