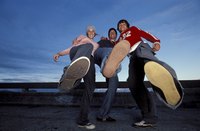 Nobody likes to throw away a nice pair of shoes, especially if money is tight and you can't afford a new pair. You can save yourself some money by repairing any rips that appear in your footwear yourself. Most ripped shoes can be salvaged and with a little bit of work and patience, you can return them to their former glory.
Things You'll Need
Adhesive remover
Cloth
Detergent
Shoe repair glue
Weight
Masking tape
Needle
Soles
Pull apart the section of your shoe's upper that has ripped away from its sole.
Pick away any dry adhesive that's attached to the upper and the sole. If this is hard to remove, use an adhesive remover. Old glue can stop your shoe from bonding during the repair.
Clean the upper and the sole with a damp cloth and detergent. Allow your shoe to dry thoroughly before proceeding.
Apply shoe repair glue or cement to your shoe's sole and upper. Push them together.
Place a weight inside your shoe to hold the upper and the sole in place while they dry, if you're repairing a rip in the heel. If you're repairing a rip at the front of your shoe, wrap masking tape around it to hold it in place.
Panels
Clean the opening between panels of your shoe that have ripped apart.
Apply a generous amount of shoe repair glue to the inside edge of the ripped panel.
Press the panel against your shoe upper. Use a damp cloth to wipe away any residual adhesive.
Place a weight on the glued area while it dries.
Canvas Rip
Purchase a strong thread that matches the color of your shoe upper. Tie a knot in one end of a piece of thread and pass the other through the eye of your needle.
Sew the hole together from the inside of your shoe. Pull the thread tight after each pass of the needle.
Tie a knot in the end of the thread when the rip has been sealed. Apply a dab of shoe repair glue to hold it in place.