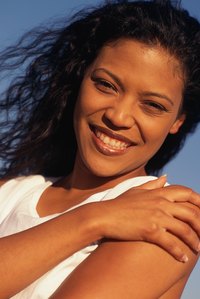 Perms are expensive and curling irons dry out and damage your hair. If you want to curl your hair inexpensively and without doing damage, try wrapping it around a pencil. It may not last as long as a perm or work as quick as a curling iron, but you will get results that make your hair look good without damaging it. Learn how to curl your hair with a pencil to save some money and keep it from drying out.
Things You'll Need
Comb or brush
Elastic hair band
Wet your hair so that it is damp but not wet. You want it to feel how it does after you have dried it with a towel after a shower.
Separate the hair on the back of your head into two sections, one toward the top of your scalp and one toward the bottom of your scalp. The dividing line should be between the base of your skull and the top of your head. Use an elastic hair band to tie up the top section and keep it out of the way.
Part the lower section of hair into two sections, one on the right and one on the left. Grasp one of these sections and place the pencil on top of the hair a few inches from the scalp. Wrap your hair once around the pencil, so that the wrap goes under the pencil then over it.
Rotate the pencil 180 degrees, as if you were turning off a wall spigot in a shower. This wraps the hair once around itself. Wrap the rest of the hair around the pencil. Secure the bound hair in place with two hair pins.
Repeat the process with the other lower section of hair, and then remove the elastic band and separate the hair toward the top of your head into right and left sections and repeat the process with them.
Keep the pencils in your hair for at least 90 minutes, and then release your hair to see your new curls.