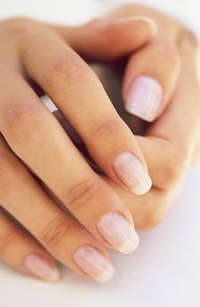 Hands are put to work every day, and daily tasks can put a strain on nails. Overworked fingernails without proper care can become weak, brittle and damaged. Weekly manicures that use tons of chemicals and sharp, damaging tools are not the only solution. Natural remedies that take just a few minutes can keep nails strong and healthy.
Keep the cuticles and nails moisturized. Dry nails can become brittle and break more easily. Rub castor oil or olive oil onto the cuticles and the nail itself. Apply before bed or while watching TV, and wear gloves to prevent the oil from smearing.
Eat vitamin- and mineral-rich foods to strengthen nails and prevent white spots from forming, which indicate injury to the nail. Eggs and milk are both high in zinc, and bananas, cauliflower, lentils, peanuts and salmon are all high in vitamin H, which strengthens nails. Getting vitamins naturally through food is preferable, but zinc supplements will also do the trick.
Eat plenty of lean protein. Keratin, a protein, is the primary component of fingernails. Sufficient protein intake gives the body the building blocks for strong, healthy nails.
Take 2.5 milligrams of vitamin B biotin daily, about 300 micrograms with each meal. Taken four to six times each day, biotin can strengthen the keratin that makes up the nail's chemistry. The vitamin reduces brittleness that can cause frequent breakage.
Give the nails some manual TLC, no chemicals required. Simply pushing back the cuticles gently at a 45-degree angle keeps the cuticle intact and healthy. A healthy cuticle helps grow a healthy nail. Get into the habit of pushing back the cuticles during every hand-washing.
Dry nails thoroughly after showering, washing hands or any time they get wet. Nails soften with prolonged exposure to water, so they break more easily. Damp nail beds also foster fungal and bacterial growth that can lead to infections. Dry with a 100 percent cotton towel for at least one minute to ensure the nail is dry on the surface and underneath.
Massage nails and use a buffer tool to keep them strong and shiny. Massaging and buffing increases blood flow to the nails, which stimulates growth. New nail growth replaces old, brittle nails with strong, healthy ones.