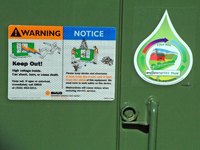 A load bank is an electrical device that simulates the behavior of the actual load of an electrical system. The load bank protects, supports and tests the system through the simulations. Resistive load banks are the most common type.
Resistive
A resistive load bank follows the behavior of the electrical system closely. The resistive load bank copies the electrical load of the prime mover and generator. The prime mover is the device doing the work such as a compressor or pump.
Function
The resistive load bank monitors the load from the generator to the prime mover and any accessory devices, and from the fuel to the generator.
Reactive
A reactive load bank monitors the lagging power factor, known as inductive, or the leading power factor, known as capacitive. The inductive power factor is the most common. A commercial load is typically composed of a combination of motors, heating, transformers and lighting.
Purpose
A device requiring current may be quite some distance from the power source. Resistive or reactive load banks may be installed to compensate for drops in current .