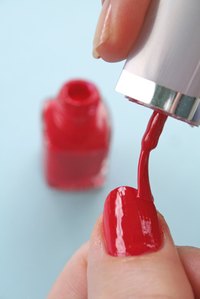 When you go to the nail salon, there is much more you can do besides receive a polish. One popular option is gel nail extensions that, once applied, can be buffed and polished to enhance the appearance of your regular nails.
Natural Appearance
As opposed to other nail extensions, like acrylic, gel extensions promise to give the wearer a more natural appearance of nail length. They do not turn yellow in color, are thin and clear, and can bear a certain amount of weight in resistance.
Strength
For those with brittle nails that break easily, gel nail extensions allow nails to grow underneath without exposure to the elements. This strengthens the nails and prevents them from breaking, giving you longer nails that will be revealed once the gel portions are removed by your manicurist.
Application
Gel nail extensions are applied in the same manner as acrylic nails, in a pastelike solution, and are then treated with a UV light that hardens them and gives them a natural appearance. On average, this procedure takes about three hours for all 10 fingers.