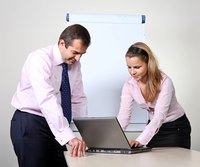 While small and large businesses have much in common, they're also different in many ways. The differences aren't universal, but they're conspicuous enough in some areas that are of special interest to job seekers.
Identification
According to KansasCityFed.org, a business is generally considered small when it has 19 or fewer employees. Large businesses are companies with at least 500 employees. Companies with 20 to 499 employees are considered mid-sized businesses.
Job Creation
KansasCityFed.org affirms that small business accounted for 79.5 percent of new job creation between 1990 and 2003. The same website reports that large business is only accountable for 7.3 percent within the same period.
Job Quality
While this certainly doesn't apply to every business across the board, large businesses tend to offer higher pay, better medical and retirement benefits and more paid vacation time. Job turnover, the rate at which employers go through hiring and firing new employees, is also lower at large firms.
Advancement & Development
Small businesses generally offer fewer advancement and development opportunities for their employees than do large businesses. While this is largely due to gross size, it's important to note from a career standpoint.
Resources
It stands to reason that large companies have more money than small ones. This allows larger businesses to buy more advanced, up-to-date equipment, consulting and technology.