South Carolina may be known for its idyllic scenery and hospitality, but it is also a center of production and manufacturing among southeastern states. Major companies in various sectors do business in South Carolina, producing a wide range of products.
Manufactured Goods
According to the South Carolina Department of Commerce, the state manufactures products in industries as diverse as aerospace, automotive, biotech and pharmaceuticals, food, wood products, plastics and chemicals. Personal care products and drugs are made by companies such as Bausch and Lomb, Roche and GlaxoSmithKline. The largest U.S. producer of polyethylene polymer -- DAK Americas -- is based in South Carolina.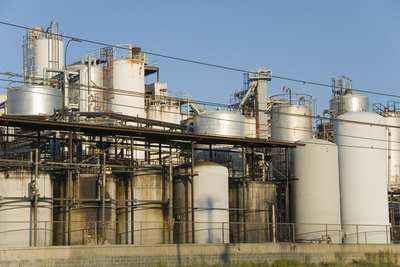 Agricultural Products
On the agricultural front, South Carolina produces a number of key crops. Tobacco accounts for a quarter of all crop income. Other major crops include nursery plants, cotton lint, soybean, corn, wheat and peaches. The state also produces cattle, hogs, chickens and turkeys.
Alternative Energy
South Carolina is also a producer of materials used in alternative energy. Greenville is a hub for General Electric's wind energy business, and companies such as Timken and Palmetto Technical Fabrics make wind turbine components in the state. Stäubli and Ulbrich Precision Flat Wire make solar power connectors and wires, while KEMET makes capacitors for solar, wind and geothermal energy, in addition to electric vehicles.