​eHow may earn compensation through affiliate links in this article.​
It just isn't fall without the scent of pumpkin spice filling the air. Just one whiff makes you feel all cozy and snuggly. But the way to really pamper yourself this season is to drop a pumpkin spice bath bomb in the bathtub and luxuriate in a fizzy, glorious soak. Bath bombs infused with fall's quintessential fragrance are easy and fun to make. They're also perfect for hostess gifts or party favors. So get ready to be spoiled by pumpkin spice and everything nice.
Things You'll Need
Baking soda, 1 cup

Corn starch, 1/2 cup

Epsom salt, 1/2 cup

Pumpkin pie spice, 1 teaspoon

Whisk

Water, 1 teaspoon

Pumpkin pie fragrance oil, 1 teaspoon

Coconut oil, 1 tablespoon

Skin safe brown and yellow coloring, about 20 drops of each

Jar

Citric acid, 1/2 cup

Stainless steel or aluminum bath bomb mold, 2.5-inch diameter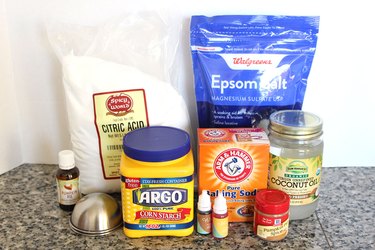 Step 1: Combine Dry Ingredients
In a large bowl, combine the baking soda, corn starch, epsom salt and pumpkin pie spice, using a spoon or whisk to get all the ingredients mixed evenly. Do not add the citric acid yet — that will be included last.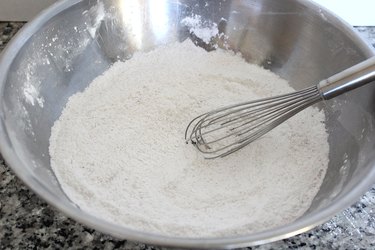 Step 2: Combine Wet Ingredients
Place water, pumpkin pie fragrance oil and coconut oil in a jar. (You can also use a bowl, but it's so much easier to mix the wet ingredients in a jar.) Add about 20 drops each of brown and orange coloring. Be sure to select dyes made for soaps, as they will not stain your skin or bathtub. Then secure the lid on the jar and shake.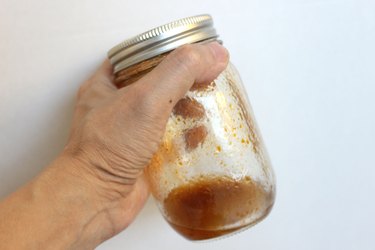 Step 3: Mix the Wet and Dry Ingredients
Gradually add the wet ingredients to the dry, using a whisk to mix it all evenly and break up any clumps. The resulting mixture should be moist enough that when you grab a bunch in your hand, it holds its shape.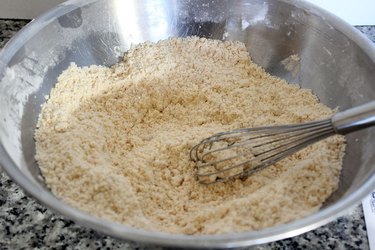 Step 4: Add the Citric Acid
Add the citric acid to the mixture and combine thoroughly. The reason we're adding the citric acid now is that if we included it with the other dry ingredients, it would have reacted with the wet ingredients and started fizzing.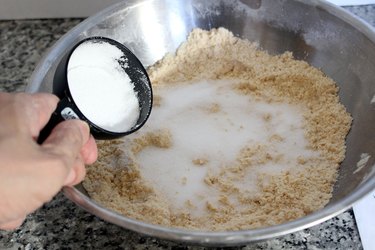 Tip
After the mixture is all combined, I like to add a few more drops of coloring — anywhere from five to ten drops — and stir. The dye will not dilute as well at this point, and the bath bomb will have little speckles of color as a result.
Step 5: Shape in Mold
You can find spherical bath bomb molds that are made of plastic or metal. I prefer the metal ones because you can really press hard without denting them. This recipe is enough for three 2.5-inch bath bombs, with a little extra left over for a 2-inch mold if you have one. Overfill the two halves of the mold with the bath bomb mixture.
Then press the two sides together very tightly to compress the mixture into the mold. Do not twist the two sides. Just press straight down. Twisting can cause the bath bomb to be split in half.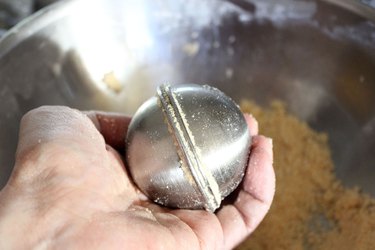 Step 6: Release From Mold
Hold the bath bomb in one hand, and lift the top half of the mold with the other. It should lift right off, but it is stuck, just tap on it with your fingernail. Then turn the bath bomb over and lift off the other half of the mold.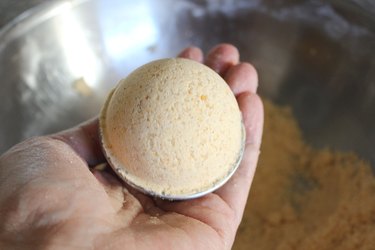 Step 7: Allow to Dry
By setting the bath bombs on a regular tabletop to dry, the bottoms might flatten. To help avoid this, cover a muffin pan with clear plastic wrap. Place each finished bath bomb in a muffin compartment. The plastic will act as a little "hammock" to hold the bath bomb in place. Let the bath bombs dry for 48 hours, at which point they will be very hard.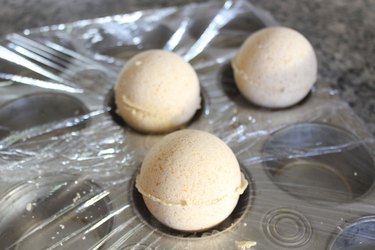 Tip
The success of the bath bombs also depends on the humidity in your home. If they crack or fall apart as they are drying, they need more moisture, so add a few drops of coconut oil to the mixture. If they expand and flatten as they dry, it means there is too much moisture in the air. In that case, add more baking soda to the mixture.
Step 8: Top With Pumpkin Pie Spice
While there is already pumpkin pie spice in the bath bomb, sprinkle a little bit on the top for a decorative accent. After all, you can never have too much pumpkin pie spice.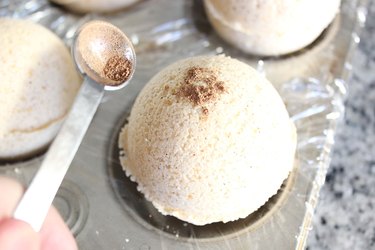 These pumpkin spice bath bombs are sure to make a splash — and a fizz — throughout the fall.