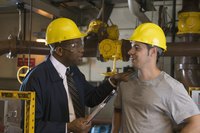 Every shop should have a vinyl cutter training guide that is easily referenced by all operators. Aside from special convenience features, vinyl cutters are all quite similar in operation regardless of size and cost. Basic in-house vinyl cutter training will include stock handling, machine and blade adjustments and clearing jams. Specialized machine-specific training can usually be obtained by the manufacturer's representative.
Material Handling
Vinyl material is easily susceptible to denting and creasing. Vinyl rolls should be stored in the shipping container or on a vinyl roll storage rack until needed, and returned directly after machine cutting. Rolls should be handled by the edges, hands should be clean to avoid surface contamination and the handler must take care not to drop ar bump the roll into obstacles.
Machine Adjustments
Preliminary setup adjustments should be made without the vinyl on the machine. Loosen the pinch roller and side-guide locking mechanisms and adjust to accommodate the roll size. Place the roll onto the media rollers, moving one side snugly against the fixed edge of the machine, and feed the roll's free edge into the machine. Adjust the pinch rollers to achieve equal distances across the top of the roll and lock into place. Finally, adjust the side guide against the side of the material, lock into place, ensuring that the guide is not too tight against the vinyl, and pull the vinyl to match up with the front edge of the cutting bed.
Adjust the Blade
Turn the blade adjustment screw fully clockwise. Press the "test cut" button on the cutter's key pad, which will cut a small square from the vinyl. Inspect the cut and adjust the blade if necessary to achieve a clean surface cut without penetrating the backing sheet. The square will peel easily away from the backing sheet when correct blade pressure is reached.
Clearing Jams
When jams occur, press the "pause" button on the machine's keypad. Cut the jammed section from the roll and any salvageable finished material. If the cutter does not automatically retract the blade, loosen the blade housing and move it from the work surface. Loosen the pinch rollers and remove the jammed material. Investigate the reason for the jam, which is often a dull or mis-adjusted blade, or the media rollers or side gauge are too tight and have prevented the vinyl from loading freely. Reinstall the vinyl and press the "pause" button again to start the job again. Depending on the damage, part of the job may need to be reformatted and recut.