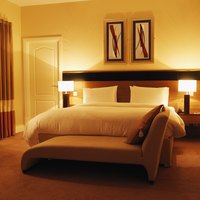 When you buy a new piece of furniture, you are paying an average 400- to 600-percent markup on the furniture store's cost, according to The Consumerist. Although building furniture can seem like an overwhelming project to undertake, it really can be quite simple. With some inexpensive wood, foam and fabric, you can build some cheap but eye-pleasing and sturdy bedroom furniture.
Platform Bed
Build a platform bed, which will do away with the need for a box spring. Plywood, two-by-fours and simple hardware are the only materials needed for the construction. You can also make drawers to slide in and out from underneath the platform, doing away with the need for a dresser. If the drawers are too complicated, use long baskets as an alternative; they don't need to be attached to the bed to function, unlike the drawers.
Paint or stain the wood of the platform bed wood when the construction is complete, and place a mattress on top. To do this project really cheaply, buy a piece of thick and dense mattress foam and cover it with fabric.
Headboard
Create a fabric headboard for a bed you already have instead of buying a new one. You do not need to know how to sew to do this; fabric-covered headboards are tacked and stapled. Use a piece of plywood cut in the shape of the headboard. Tack a thin piece of foam on top of this and cover it with fabric. Get as fancy as you want with embellishments like buttons, ornamental tacks and even beads, or leave it plain. This does not need to be attached to the bed; you can attach it to a wall and place the bed in front of it. It will look like you bought a whole new bed.
Chest
Build a blanket chest to go at the foot of your bed. This easy-to-make, four-sided wooden box has a simple design for a top cover and can take the place of a small bureau for holding your clothes. Cover the top in a fabric that matches your headboard or your bedding ensemble. This project is simple, using just wood, foam, fabric and minimal hardware. Paint or stain the finished project. This piece of furniture not only adds extra storage, but also provides a place to sit (see Resources).
Corner Furniture
Construct a corner bench or two in your bedroom in place of chairs. This piece attaches directly to the wall, so there are no legs to balance, and it is made with a small piece of simple plywood, which is cheap to purchase. The top is covered with your choice of fabric, which is tacked down over foam, giving the bench a cushioned seat.
Use a variation of the bench and make a vanity or a desk in the corner of the room. Bring the platform up to desk or vanity height and paint or stain the top. Get creative and use ceramic or mirror tiles for the top if it is a vanity. Slide a simple stool or chair underneath, and it is complete. With this piece of homemade furniture, you are utilizing just one corner, leaving more room for other things in your bedroom.