The simple architecture of America's farmhouses reflects their roots in an agricultural society largely absent in today's fast-paced world, but that doesn't mean their inherent charm has been lost. When you decorate your historic home, don't strive to simply re-create the past. A home should also reflect the personalities of the people who live there. Whether your taste runs to primitive country or prairie style, or takes a more contemporary turn, your old farmhouse can provide the backdrop for your decor choices.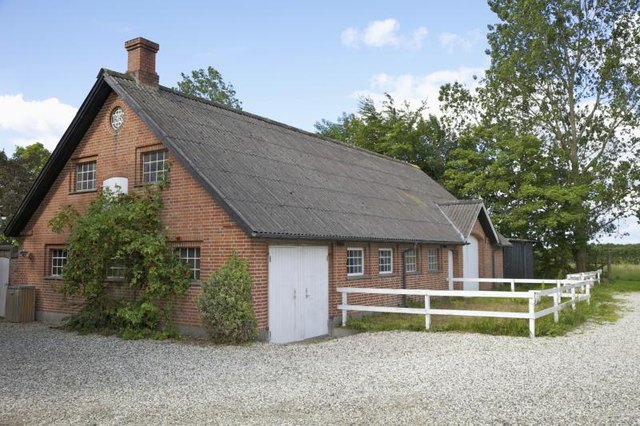 (Grimm-Fotosniper/iStock/Getty Images)
Primitive country style evokes a time when items were handcrafted, well used and often repurposed rather than thrown away. Furnish your home with simple antique furniture sporting its original paint worn away in spots that are frequently touched, such as around handles on cupboards and on the arms of chairs. A pie safe with rusting tin door panels works well as kitchen storage, while a Windsor-style plank-bottom rocking chair makes a cozy seat when pulled before a roaring fire. Put a stagecoach trunk or blanket chest to work as a coffee table. Display collections such as wooden bowls or vintage wooden spools on an antique dry sink. Dress your windows with muslin curtains suspended from twine to underscore the primitive vibe. Hanging bunches of dried herbs from ceiling beams adds a natural touch. If antiques are not in your budget, substitute reproduction pieces, which are often less expensive.
Albina Yalunina/iStock/Getty Images
Romantic prairie is an eclectic, down to earth decorating style designed to make your home feel cozy and inviting as well as functional. If you long for a fireplace but your farmhouse doesn't have one, create your own with a vintage fireplace surround leaning against or attached to the wall. Fill the opening with a galvanized bucket filled with baby's breath. Decorate the mantel with a mismatched collection of white china vases gleaned at a flea market or garage sale. Lighten a dark corner when you place an intricate candelabra on a rustic milking stool. This type of juxtaposition is classic romantic prairie style. Shorten the legs on a rustic farm table and pair it with a low-backed couch upholstered in off-white linen.
Monica David/iStock/Getty Images
Modern country style is a clean, uncluttered reinterpretation of classic American Country. Gone are the mini-floral prints on the walls, windows and bedding. Instead, hang simple, unembellished curtains or, if privacy isn't an issue, don't dress the windows at all. Eschew braided rugs for those woven from natural materials such as sisal. Freshen your bed with white cotton sheets coupled with a white woven blanket. Edit your collections. For example, rather than displaying every yellow ware bowl you own, pick your three favorites and give them pride of place atop a vintage kitchen jelly cupboard.
Eivaisla/iStock/Getty Images
Adhering to one decorating style can be stifling. Have some fun by mixing contemporary pieces with primitive ones. Experiment with industrial chic in your farmhouse. It might work better than you think. Kick up a country kitchen when you introduce a stainless steel island or install stainless steel pendant lights above an antique chopping block used as a work space. Rethinking your guest room is easy when you replace traditional beds featuring wood or brass frames with platform beds sporting brushed nickel frames and mounted on wheels. Tone down the contemporary vibe with lace-trimmed linens and quilts.
Christian Müller/iStock/Getty Images
Promoted By Zergnet