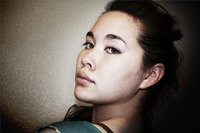 Darker skin has more melanin than lighter skin. This brings with it certain advantages, such as the abundance of melanin makes dark skin less susceptible to certain types of sun damage. However, plentiful melanin can also result in a condition than can be unsightly to behold and challenging to overcome---dark spots, also known as hyper-pigmentation.
Understand the Cause
In most cases, dark spots on dark skin are caused by physical injury. This includes everything from bruises and cuts to the damage that can take place when you squeeze a pimple. Avoid getting spots by steering clear of activities that could cause bruising or injury, and resisting the urge to squeeze pimples.
Remember that dark spots may also be caused by serious diseases, such as Addison's Disease. See a doctor if you're experiencing skin discoloration that seems to have no apparent trigger.
Problematic Treatment
According to Dermatology Times, hydroquinone is viewed by many dermatologists as being one of the most effective treatments for lightening dark spots. However, it comes with certain risks. Long-term use of hydroquinone can cause ochronosis, a condition that results in severe skin discoloration, and this drug has also been linked to cancer. For these reasons, hydroquinone has been banned in Europe, Africa, Australia and parts of Asia. The U.S. Food and Drug Administration (FDA) has been considering a ban on over-the-counter sales of hydroquinone in the United States as well.
Alternative Treatments
Fortunately, there are alternatives. Arbutin is similar to hydroquinone but it's far gentler. Another is kojic acid, a natural compound that is produced via various strains of fungi. Other choices include licorice and azelaic acid.
Another option is sulfur. In her book "Unlocking the Mystery of Skin Color," Dr. Thienna Ho says that sulfur is important to skin health, and can play a role in lightening dark spots. This mineral has been used to promote health and wellness for centuries---sulfur-spring resorts have long been popular destinations, and their therapeutic waters have been known to do everything from calm the skin to heal the liver. It's marketed under the name MSM and it's used topically via creams and lotions. Another option is to ingest MSM, which is available as a powder or in capsule form.
Always protect your skin from the sun by using a good sunscreen. The sun triggers melanin production, and exposing your skin to its rays can slow treatment or worsen your condition.