The kitchen renovation is strictly paint this year. Ripping out cabinets and replacing the stove and fridge are not on the agenda. But you can give your tired kitchen an invigorating makeover with the right paint colors. Use paint on walls, cabinets, floors and furniture to add character to a bland room and disguise flaws in a well-lived-in one.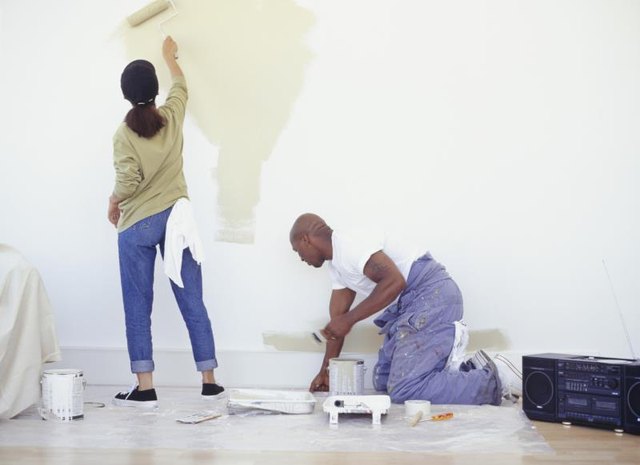 (Ryan McVay/Photodisc/Getty Images)
From silvery cobwebs to ominous thunderclouds, shades of gray create a cool, contemporary kitchen. Stain wood cabinets pewter and paint the walls pale smoke. Try a gray-tinged white on the ceiling and dark slate pavers on the floor. Gray is spectacular in the kitchen -- unless the light turns it muddy. Test and test again before choosing the gray that flatters your floors, appliances and counters in every kind of light. Morning and afternoon sun play very differently over the walls. A northern exposure, with its cool, even light, enhances most grays; southern exposure tends toward glare, has more yellow in it and changes dramatically throughout the day. Eastern light is strongest at sunrise, and western light deepens in the late afternoon. Halogen and incandescent bulbs shine yellow; fluorescent and LED bulbs give off a bluish or cold white light.
Your diet is fruit- and veggie-based, and your life is so green that no one is surprised at your granny-apple-over-asparagus-and-olive kitchen. Apple-green cabinets are minty-fresh against the sealed limestone or environmentally friendly linoleum floor. Medium asparagus-green or deeper olive-green covers the walls, and a healthy gloss of pure white brightens trim and the ceiling. Add brushed aluminum appliances and black granite counters to anchor all that flowing green. Then sit back and pass the salad.
Your adobe kitchen has exposed wood vigas overhead and vintage saltillo tile underfoot. The brushed stainless stove and refrigerator are contemporary, but the butcher block counters and mullioned windows belong to another era. Lighten, brighten and pull the room together with white below-counter cabinets and fearless egg yolk-yellow or harvest pumpkin paint on the upper walls. The vivid color showcases wall-hung hand-painted clay plates and serving platters and warms the room more than the strings of dried anchos hanging from the rafters. If the adobe is still on your bucket list, transform your ordinary kitchen into a Santa Fe cocina with paint, pottery and big square terra-cotta floor tiles.
A snowdrift of white has been the default contemporary kitchen color scheme for so long the look is practically invisible. Everything's white; the counters are clear -- yawn. Paint that predictable kitchen into elegant, sophisticated and quietly rich with creamy eggshell paint on the walls framing the white cabinets. Cover a section of the granite counter with a butcher block cutting board big enough for a restaurant kitchen. Keep trim white to match the cabinets, but cover the ceiling in cream and hunt for antique vanilla glass pendant lamps to match the off-white paint. Paint the old wood floor in giant squares of charcoal gray and pale cream.
Promoted By Zergnet