Your wedding dress is perhaps the most important element of the entire wedding. If you do not feel gorgeous in your dress, the whole day can fall from there, at least in your mind. When it comes to choosing the color of your dress, it is a personal choice. Although it may seem as simple as white or ivory, there are several other things to consider before choosing the color you want to wear on your special day.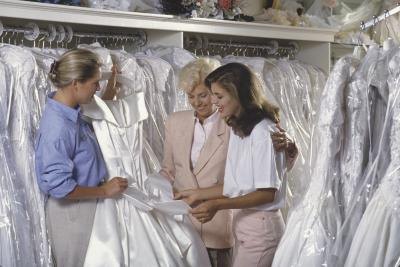 (Comstock/Stockbyte/Getty Images)
The white wedding dress has been a staple in the history of weddings. It was meant to symbolize purity and simplicity. Queen Victoria in 1840 made the white wedding gown a staple by being the first to wear white at her wedding. From then on, the bride was cross-referenced with the color white. When choosing your white wedding dress, you should always try to pick one that will best match your skin tone. If a dress makes you look to pale or washed out, you will notice this in your photos from the wedding.
As far as wedding details go, everything and anything goes with the color white. You can have a spectrum of colors for your flowers, linens and decorations, and not a thing will look silly or unmatched.
As fashion trends have changed over the years, white is still the best-selling wedding gown color, but it is no longer the only choice for brides.
eli77/iStock/Getty Images
Don't be afraid to choose ivory over a white wedding gown. In these modern days, many brides choose ivory instead of white simply because it looks better with their skin tone and complexion. However, there are several things to think about if you choose an ivory gown.
Your flower selection should have a lot of color. Even having off-white flowers such as calla lilies will complement your gown nicely. Just make sure the boutonnières are off-white flowers as well. If they are white, you will definitely see the difference in color and that is not what you want.
Ask your caterer or linen provider for off-white linens. If you choose ivory, you should have no detail selections in white. Also make sure that the icing on your wedding cake is a creamy, off-white color instead of traditional white.
When it comes to your shoes, they are pretty much hidden under your flowing dress. However, if you have a gown that allows your toes to peep out the front, you can find a huge variety of ivory shoes at most shoe stores.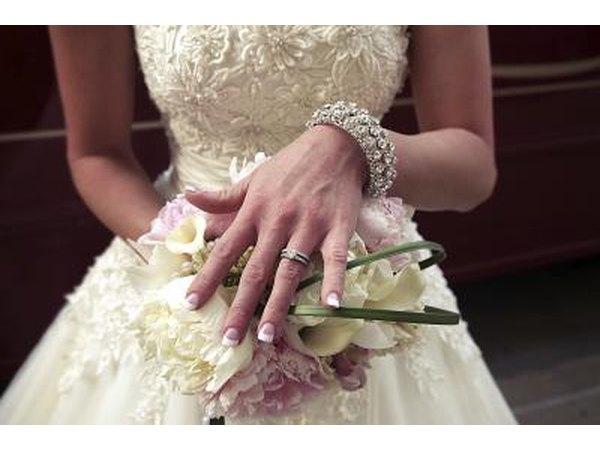 TriggerPhoto/iStock/Getty Images
Promoted By Zergnet