An apartment patio is valuable real estate come spring, summer and fall and a space you want to use to its fullest. By addressing the patio as you would any other room in your home, you can create a relaxing oasis in your urban setting. Flowers can help block unpleasant views and create boundaries, while a comfortable seat creates your tranquil getaway. If you are staring at your cold, barren patio space right now, read on to get inspired to make the most of your outdoor room.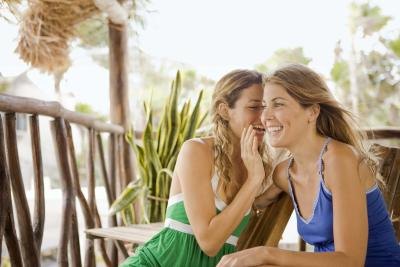 (Jupiterimages/Creatas/Getty Images)
An apartment patio often has a less-than-scenic view and can sometimes overlook a parking lot or a neighboring patio. Create some privacy and your own garden getaway by building a wall of flowers to alter your view.
Purchase plastic flower pots that have an old world charm. Lightweight and stylish, plastic pots are now fashionable and available in urn shapes, and weathered and distressed terra cotta designs, and offer an apartment dweller a lighter-weight container for her garden. Purchase some taller plants such as sunset hyssop, hollyhock and daisies. Place these taller plants along the corners and edges of your patio to shield an unattractive view. Then, pot up some additional plants that are shorter to place in front to create a faux garden view. Not only will potted plants create a nice view while on your patio, they also will attract butterflies and provide a visual barricade fo lower-level or ground-level patios. Be sure to care for your investment by watering daily as weather dictates.
If you like, save room for a few vegetables and herb plants on your patio as well. Tomatoes, peppers and all herbs grow terrific in containers and will make your patio smell great as well.
oneillbro/iStock/Getty Images
Even a small patio can be a nice outdoor living space, so decorate it as you would a spare room. Start with a small outdoor area rug to further define your space and make if comfortable for your bare feet even on the hottest of days. You can purchase nice grass or bamboo-styled outdoor area rugs at your local home design and remodeling store.
Once placed, top it off with a small bistro table and two chairs to create a relaxing nook for you to have your morning coffee or evening cocktail. If tanning is your thing, get a smaller, lower round table and a settee for your patio, as well as one additional chair for guests. A settee is a great place to take a nap or tan on a warm day. No matter what your price point, you can get attractive furnishings for your patio, so shop around and always shop off season for the best value.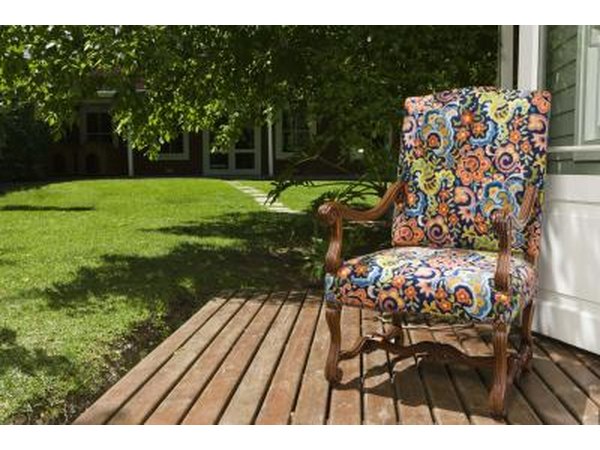 Jupiterimages/BananaStock/Getty Images
Accessories set the tone of your patio as they do in your home, so bring your personal style to your outdoor space. Zen like Buddha statues can create a relaxing atmosphere, while pink flamingos stuck in your planters will give you a retro sense of fun. Outdoor candles, a fountain, bird feeders or wind chimes all help create an ambiance for your outdoor space, so consider your patio and how much room you have for additional items.
Hang sundials or terra cotta masks on your brick wall easily by using specially hinged no-drill picture hangers available at your home improvement store. You also may choose to hang or place rusty vintage wrought-iron fence pieces around to add even more character to your patio.
Purestock/Purestock/Getty Images
Promoted By Zergnet