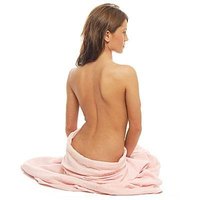 Body acne can appear and react on the skin just as facial acne can. Treatment of body acne can be a little more difficult, because it can be hard to reach all the places that body acne can appear. Luckily, there is a strategy to treating body acne that can help alleviate it and prevent it from returning. Here are a few simple steps to help you understand what to do for body acne.
Tea Tree Oil Cleanser
Fill a bathtub with warm to hot water, adding 1 tbsp. of a tea tree oil cleanser to the water while the tub fills. Soak in the tub for at least 10 minutes.Tea tree oil is known to kill acne-causing bacteria as well as Benzoyl Peroxide, which can be a natural alternative if you are sensitive to Benzoyl Peroxide. You can find a tea tree oil cleanser at any health food store or natural foods market.
Baking Soda Scrub
Baking soda helps eliminate Candida bacteria that can cause treatment-resistant acne. You can apply baking soda directly to the skin, which can be used in combination with the tea tree oil cleanser. Combine 2 tbsp. of baking soda with enough water to form a paste, then massage it into the skin for about 1 minute. Rinse well with water.
Tea Tree Oil Spot Treatment
If there are acne pustules or cysts that are inflamed or fluid-filled, it can be helpful to spot treat those areas with sightly diluted tea tree oil. After you have taken the tea tree oil bath and scrubbed with the baking soda, soak a cotton pad with a solution of 1/3 tea tree oil and 2/3 water, then apply it to the skin. You can repeat this process once per day until the acne diminishes, then reduce to twice per week.
Benzoyl Peroxide Cream
Benzoyl Peroxide has been used for years to effectively treat acne quickly. It usually comes in cream form, but can also be found as an ingredient in acne cleansers and toners. Benzoyl Peroxide helps chemically release oxygen onto the skin, which quickly kills the bacteria that cause acne. It is important to use Benzoyl Peroxide in small amounts at first, as it can sometimes cause irritation and redness on the skin.
See a Dermatologist
If you have tried all of the traditional methods for clearing body acne at home, but still find it difficult to get rid of the body acne, then you should consider scheduling an appointment with a dermatologist. Dermatologists can prescribe creams and lotions that cannot be purchased in stores, such as Retin-A creams and ointments. Because of their high incidents of side effects, these creams should only be used under a dermatologist's guidance.