Almost everyone has had one -- a small kitchen. Some people lament it, and others accept it with reservation. But a small kitchen can be just as functional and maybe even more inviting than a larger space. By paying attention to color, prioritizing your kitchen's cast of accessories and using creative storage solutions, your can make your small kitchen a balanced space to accommodate all your culinary efforts.
(poligonchik/iStock/Getty Images)
Selecting a neutral color foundation for your small kitchen is a relatively easy and inexpensive route to immediately open up your space. Light colors allow incoming sunlight more play, and a white, cream, butter yellow or even a pale blue backdrop unifies and freshens the room. Painting brick or dark cabinetry white gives a small kitchen a crisp and tidy vibe rather than a tight and crowded feel. Renters who can't paint may cover dark walls with burlap, light gauze curtains or pastel batik to achieve a similar look. Hanging a large mirror also tricks the eye into perceiving more room. And don't worry: You can also add small dashes of bold colors.
ttatty/iStock/Getty Images
The good news in small kitchen decorating is that a small, significant detail has a huge impact, says designer Scot Meacham Wood. For those with limited budgets, this is relieving. He suggests playing up or changing out any existing architectural details to create interest. And taking away is just as important as adding -- in a small kitchen. Decluttering can either feel like a chore or pure liberation, but the process will definitely pay off. Slowly edit out a few hardly-ever-used kitchen gadgets or small appliances each day. Donate or sell them: Storing them in cabinets will just steal premium room. Less is more in a successful small kitchen scheme.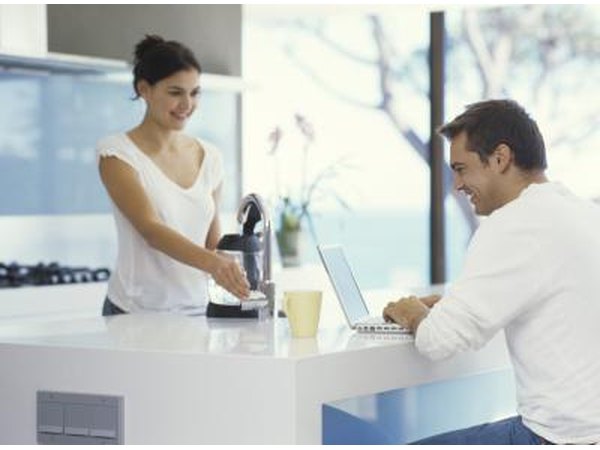 Ciaran Griffin/Stockbyte/Getty Images
Small kitchens thrive on clever, multitasking ideas. Mount wine racks under the breakfast bar; install shelving above a sink; use slide-out cutting boards and magnetic knife strips to save space. If you can fit in a small table, use it for dining as well as a work surface, with a crisp tablecloth to signal the difference. Station a rolling baker's rack that stores larger items but can be wheeled away if space is needed. Use nooks and windowsills to display things you use often; don't hide pretty pottery, cool cookbooks or funky colanders. Create points of interest and improved access by leaving brightly colored cookware out in the open.
George Doyle/Stockbyte/Getty Images
With a bit of work, your small kitchen becomes a haven rather than a headache. Now that you've evened out the color scheme, stowed items in creative spots and reduced unnecessary items, it's time to add a few homey touches. Add a rice paper lantern over your bistro table, and display your antique Mexican tile breakfast tray against any blank spot of wall or paint the rungs of your bar stools a fire-engine red. Small touches of vibrant color, small-scale artwork and texture warm up and personalize your new space. Reward yourself with a few pieces of bright vintage dishware or upcycled bamboo place mats to celebrate your revamping.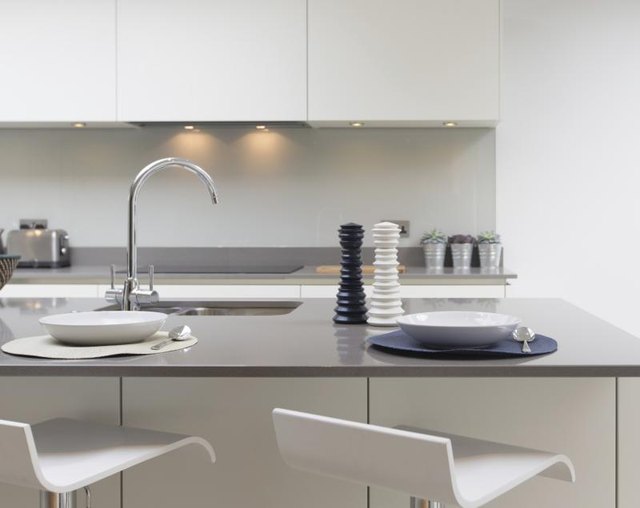 DHSphoto/iStock/Getty Images
Promoted By Zergnet