The color black goes with just about everything, and leather adds richness to any decor, which makes black leather a versatile choice when putting together an attractive, functional room. Black leather furniture can be chic or comfy, sophisticated or homey, but always serves to ground a room and add drama.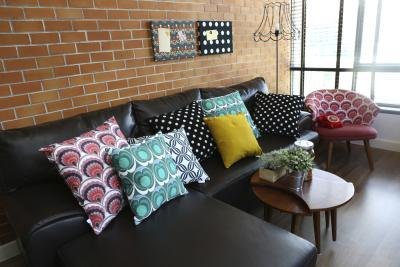 (phaendin/iStock/Getty Images)
Black leather can tie an open-concept kitchen, dining and living area together. Position a black leather sofa to divide the two spaces, or put two leather sofas back to back to provide seating for both areas; add black leather chairs around the dining table and coordinating easy chairs in the living area. Paint all walls the same hue – you can go pastel or bright here, as long as the color choice makes sense for both living and kitchen/dining areas. Hang artwork on the walls in both spaces that pick up the same colors.
In sunny rooms, adorn a sleek, modern, minimalist black leather sofa and easy chairs with black-and-white striped or geometric pillows; paint the woodwork and all but one wall a clean white, and paint the remaining wall in black-and-white vertical stripes, or cover the wall with an embossed black-and-white wallpaper. Embellish white drapes with black tiebacks and a black-and-white valence, and add a fluffy white area rug. Accessorize the seating with a glass and black metal coffee table and side tables, and add lamps in modern black metal with white glass globes.
Animal prints often include black, which makes black leather furniture a natural match for these exotic patterns. Coordinate a crinkled black-leather sofa, easy chair or recliner with more furniture in a warm beige, and accessorize both with pillows or a throw in a leopard print. Spread a faux zebra rug on the floor, and add upholstered leather ottomans so people can put their feet up. Paint one or more walls in a putty color, and hang large, dramatic jungle animal-themed artwork, framed in black, on the walls.
In smaller rooms, leather furniture can help create a cozy retreat. In the bedroom, install an upholstered black-leather headboard at the head of the bed and a black leather storage ottoman at the foot of the bed. Place an overstuffed leather easy chair near the window next to a wooden side table, and accessorize with a large, colorful reading lamp. Paint the walls a deep red, and offset them with white window casings and white mini blinds. Add a room-sized Persian area rug, and pile pillows on the bed and the easy chair in hues that pick up the colors in the rug.
Promoted By Zergnet