Stucco, a type of plaster with a cement base, is used on the exterior of a kind of house now called a "stucco house." Usually applied in three layers over solid surfaces like concrete blocks or older stucco versions, builders or home decorators may also add pigment to the base. Alternatively, a decorator can also paint directly on the stucco home. If you want to add texture to the home's exterior, add pebbles to the stucco, or rake or swirl the stucco as it dries to leave indented patterns.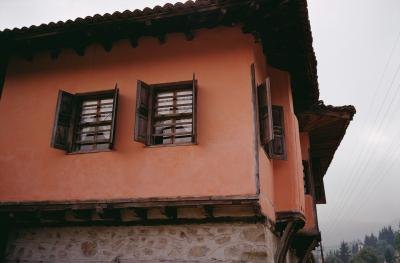 (Jupiterimages/Photos.com/Getty Images)
Light pastels, such as light, jade green make warm and intriguing exterior stucco house colors. Because stucco homes tend to have large roofs, darker trim or details like shingles or Spanish tiles, a pastel color makes those features pop. A light green is particularly attractive in a tropical or subtropical climate surrounded by darker, fleshy tropical-tree green. The light green color is refreshing to the eye in a colorful neighborhood.
Jupiterimages/Photos.com/Getty Images
A deep cranberry or tomato red color stucco home stands out on a street or neighborhood with mostly beige, brown or tan houses. Red also looks stunning with direct sunlight if you live on a corner or side of the street that gets hit with full sun each day. Mix the red color in with the original stucco application rather than painting the color directly onto the house; because the red may fade or chip off, the color tends to last longer when embedded in the plaster. Allow a day or two to pass between coat applications to let the layers dry.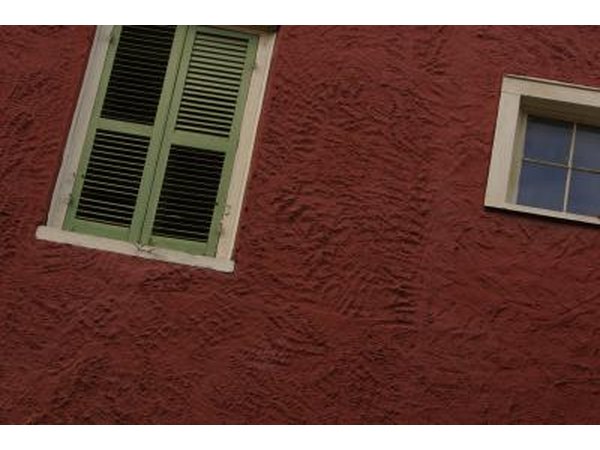 Jupiterimages/Photos.com/Getty Images
Peach, or a similar salmon-like color, makes a good choice. Stucco's original color is off-white cream or beige. Peach is one color step up from beige, presenting a soft, approachable home to passerby and guests. If you have a textured stucco home -- with pebbles or swirled grooves -- a peach color complements the chunky facade like a fruit rind. After you apply the final color layer, keep the stucco moist for a few days so the color can set in.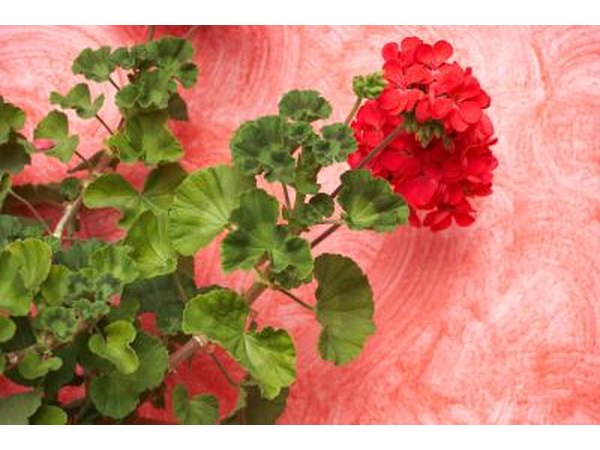 Jupiterimages/Photos.com/Getty Images
Promoted By Zergnet