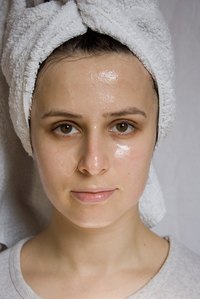 Skin firming is the goal of many women who are faced with wrinkles, saggy skin and cellulite. While some women may invest thousands of dollars in plastic surgery or expensive chemical peels, the best skin firming secrets can be done easily at home. Keeping the skin hydrated is essential to maintaining a healthy glow. Regular exfoliation removes dead skin cells and stimulates the skin to keep it tight and firm.
Nutrition
Believe it or not, proper diet is the easiest way to achieve and maintain healthy, firm skin. Drinking plenty of water ensures that your cells are hydrated, which keeps your skin firm and glowing. A diet rich in fruits and vegetables provides your body with the essential vitamins and minerals necessary for firm skin. Antioxidants and antioxidant supplements cleanse the body of impurities and hydrate the cells, which improves the skin's appearance.
Exfoliation
Exfoliation removes dead skin cells, softens the appearance of wrinkles and cellulite and promotes new cell growth. Regular exfoliation will leave your skin with a healthy glow and prevent wrinkles and sagging skin because it stimulates skin cells. Sensitive skin requires exfoliation a few times per week, while oily skin benefits from daily exfoliation. You can pay for expensive microdermabrasion treatments or exfoliating chemical peels, but exfoliation is easy to perform at home. Exfoliating facial scrubs range in efficacy from mildly abrasive to very abrasive, depending on your needs. A simple home recipe is to mix sugar or salt into your regular facial scrub for a gritty, exfoliating boost.
Firming Creams
Firming creams are a popular and affordable skin firming method. These creams require daily application and may take weeks to produce visible results. Although all firming cream formulas differ, most creams contain moisturizers and antioxidants. Moisturizers hydrate the skin and protect it from sun and wind damage. Antioxidants hydrate the skin and are also known to cleanse and protect the body against impurities. For best results, apply firming cream daily after exfoliating the skin to remove dead skin cells and promote new cell growth. You can forego firming creams if you include a moisturizing lotion in your everyday skin care routine.
Exercise
Proper exercise works the muscles and contributes to your skin's elasticity. Without proper muscle tone, blood circulation and oxygen flow decrease and skin begins to sag.