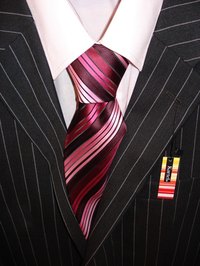 While exact dress codes will vary from office to office, there are standards for professional dress codes that most proper businesses will expect you to adhere to. You may think that you can perform your job just as well in a pair of sweatpants as you can in a stuffy tie and jacket, but the truth is that a professional image can really make a difference. Your clients and customers will respect you more and your boss will see that your job is important to you, as well.
Always Look Clean and Groomed
This is probably the most important rule for professional dress codes and can affect the way people treat you more than your actual outfit. Make sure that your hair is nicely brushed and cut to a respectable length. Men must shave everyday or trim their beard or mustache. Women should be sure that hair is either neatly pulled back or nicely styled. Nails should be cut or filed and peeling nail polish should be removed. Most offices do not approve of visible tattoos, body art or excessive piercings.
Dress in Formal Business Attire
A professional office usually requires that its employees dress in formal attire, which means suits and ties for the men and either suits or a skirt with a dressy shirt for the women. Men's shoes should be polished and the laces should be tied and women are expected to wear either high heels or dressy flat shoes. Sneakers and other casual shoes are not permitted.
Your Bag Should be Formal
Although it is not officially part of your outfit, your choice of bag should match the tone set with your attire. A backpack or grungy knapsack will not do the trick here. You should use either a briefcase or a pocketbook or purse that is fancy and in good condition.
Avoid Looking Ostentatious
Anything that is too bright or loud does not fit with a professional dress code. This includes, but is not limited to, excessive makeup, over-sized jewelry, bright colored dress shirts for men and too much perfume. You should choose clothing and accessories that are both pleasant and tasteful.