Summer brings longer days and shorter nights, allowing people to spend longer periods of time outdoors. Summer adventures require changes in diet to combat hydration, fatigue and heat. Certain foods are eaten in the summer because of tradition, others because of seasonal availability. The best summer eating strategy is to find ways to satisfy hunger and thirst while staying cool.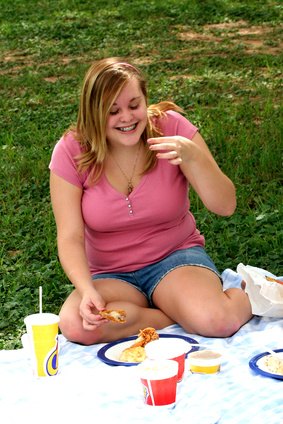 (picnic image by Sandra Henderson from Fotolia.com)
A thirst-quencher, watermelon is 92 percent water. Sweet with a mild flavor, this fruit ripens during the heat of summer. High in vitamin C, watermelon has large amounts of vitamins A and B6, thiamine, potassium and magnesium. Watermelon is served in slices, balls or cubes, and either alone, in salads or mixed with other fruits. Watermelon is a good diet food: one cup has only 48 calories and no fat. Eating watermelon is a traditional summertime treat, thanks to its sugary sweetness, but it also provides valuable water and nutrients needed in hot weather.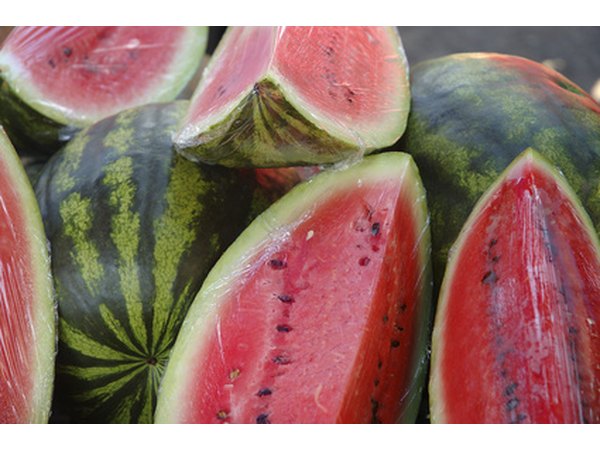 watermelon image by ewa kubicka from Fotolia.com
Serving fresh salads for meals rather than cooking helps keeps the house cool, a great idea for combating summer heat. Salads offer thousands of possible flavor combinations and can include fruits, vegetables, nuts and grains. As long as you avoid high-calorie dressings, salads can be nutritious and low in saturated fat, which can help you maintain a beach-ready figure. Most fruits and vegetables contain water the body needs in summer because of excessive sweating.
fruit and vegetable salads image by araraadt from Fotolia.com
Traditional summertime cuisine includes grilled foods. Cooking outdoors keeps the kitchen cool and lets people enjoy nature while preparing a meal. The smoky flavor is a signature mark of grilled foods. Almost anything can be cooked on the grill: although most people only think of steaks, hamburgers and hot dogs, fish, vegetables, fruits and breads also work well on the grill. Certain foods need to be adapted by using a wooden board or aluminum foil to keep the food from slipping through the grill grate, but almost any food that is cooked can be cooked on the grill.
greek grill image by Eric E from Fotolia.com
A summertime favorite, ice cream is loved by children and adults alike. From homemade ice cream with fresh fruit to ice cream bars delivered in bell-ringing ice cream trucks, this frozen concoction delights taste buds with its sweet, cool texture. Ice cream comes in many forms, such as on a stick, in a cone, blended in a milkshake, or in a cake. Ice cream is a rich treat that instantly cools your mouth, a perfect food for the blistering heat of summer. A healthy alternative to ice cream is frozen yogurt, a cool treat that has lower fat and calories because it is made from yogurt or milk rather than cream. Italian ice, another healthy ice cream alternative , is made the same way as ice cream but with fruit puree or concentrated flavorings, providing a nonfat icy treat for hot summer days.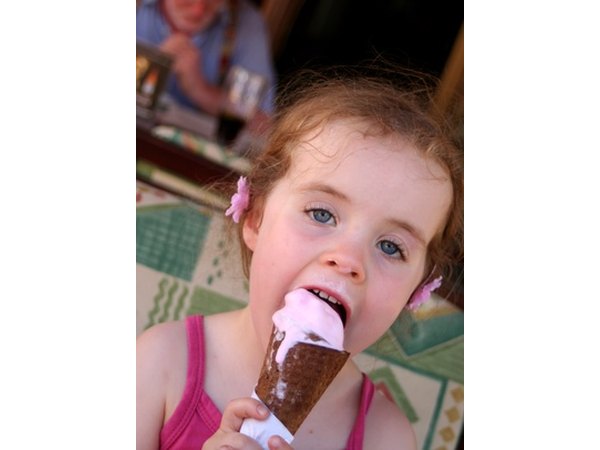 little girl eating icecream image by DebbieO from Fotolia.com
Promoted By Zergnet