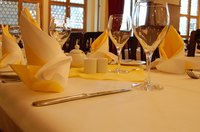 Lighting can have a powerful effect on an interior; this is especially true when it comes to restaurants. Lighting can help set the restaurant's mood and atmosphere; however, the type of ambiance you want to aim for must be determined by the type of restaurant and the meals served.
Skylight
Unless you operate a nighttime-only restaurant, a skylight can benefit the overall lighting scheme of your restaurant significantly. Natural light will fill the room, bringing in the brightness of the outdoors for your patrons, helping them feel alert and energized. The added benefit of a skylight is that it can reduce your electricity costs. At the same time, a skylight doesn't preclude you from creating dimmer lighting schemes for the evening.
Intimate Lighting
Many dinner restaurants strive to create a sense of intimacy with lighting. Dim lighting encourages diners to take their time and have a leisurely meal. At the same time, however, you don't want the lighting to be so low that customers have difficulty reading the menu or can't admire the chef's handiwork. Have your lights on a dimmer so you can easily adjust the lighting as appropriate. You can also have backlights along the walls or booths that will provide low lighting where needed and not flood the entire room in brightness. A candle or lantern at each table will offer moderate illumination, promoting a sense of intimacy and privacy.
Fixtures
Make sure that the decorative lighting fixtures you use appropriately reflect your restaurant's decor. For example, for family restaurants, theme restaurants or diners, pick festive lighting pieces that add to the energetic atmosphere and bring out certain colors in the design scheme. On the other hand, for a fine dining restaurant, use fixtures like sconces and chandeliers to give the room an opulent and elegant setting.