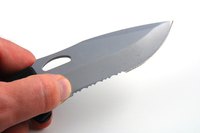 According to New Mexico State University, deer hides and other small to medium-sized skins can be tanned at home. Deer hides are among the best hides for beginners, since they are thick enough to prevent tearing during the tanning process. While time and patience are needed to successfully tan deer hides, the process requires relatively few tools and chemicals and uses fairly simple techniques.
Sharp Knife
Preparing a hide requires a sharp knife to cut away excess pieces of flesh, ragged portions of the skin and adhered fat. Novice tanners should choose a knife small enough to be easy to handle and sharp enough to easily cut through tough connective tissue. A knife that is too dull could slip and cut the user.
Large Container
For soaking, cleaning and tanning the hide, tanners require a non-metallic container large enough to easily float the skin. This container should not be so small as to bunch or tangle the hide, as that may prevent even tanning. According to New Mexico State University, a five to 10 gallon plastic garbage can, large ceramic crock or wooden barrel will work for this purpose. Avoid metal containers, which may cause an unpleasant reaction with tanning chemicals.
Scraper
Hides must be scraped before tanning, using a hide scraper or a makeshift scraper such as an old hacksaw blade. The scraper should be easy to hold and have a moderately sharp edge, for removing adhered fat and connective tissue. A piece of metal with notches filed along one edge works well for this purpose.
Brush
For paste-style tanning chemicals, a large flexible brush, such as a house-painting brush, can make application easier. The brush must be made from materials that won't deteriorate in the tanning chemicals, making synthetics preferable to natural fibers. This brush can also be used to oil the hide after tanning is complete.