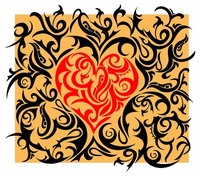 True love is permanent, and so are tattoos. Some couples decide they want to demonstrate their love by choosing tattoos that symbolize their unions. There are many concepts to consider and designs from which to choose.
Wedding Rings
Tattooed wedding rings are a popular way for couples to demonstrate their commitment to each other. It is a permanent commitment, not unlike the marriage. It's not like a wedding ring that can get lost (or slipped off.) For that reason, athletes, mechanics and construction workers often consider the tattooed wedding ring.
Some couples choose to get plain wedding bands. Others like some thing a little more elaborate, such as a celtic symbol. Bible verses (For example,"I am my lover's and my lover is mine; he browses among the lilies." Song of Solomon 6:3). Celtic knots, roses on a vine and braids are nice ideas for wedding rings.
Completion
A couple may want more room than a finger to express themselves. One example is a puzzle tattoo. The wife can get a tattoo of an eight piece puzzle about an inch bellow the inside of her elbow. She is missing one piece. Her husband has the missing piece on the same spot on his inner arm. Each person could also get a half of a heart tattoo, so when the two hold their tattoos together, they make a complete heart.
There are some who warn against tattooing anyone but their children's name. They claim it's a curse, and that after the tattoo's ink dries, the relationship is destined to fail. It's something to consider, but ultimately it's your body and your tattoo. You decide if you believe in the curse or not.
Matching Tattoos
Matching tattoos can be fun to pick out because there are really no limits. You want to have something showing that you are in solidarity. A fingertip sized heart tattooed just about anywhere can be very sweet, and discreet. A couple that wants something larger than a finger tip could choose a favorite phrase, or part of their wedding vows. Anniversary dates, favorite animals or symbols are also popular choices.