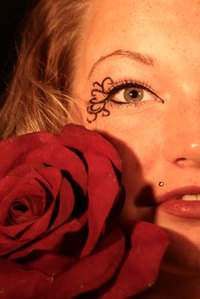 There are only a few ingredients you need to make henna paste, with henna powder being the hardest to obtain. Ask around at shops in your neighborhood and talk to friends that have made the paste before. Other than that, the process of making henna is relatively easy. You will be creating stunning works of cultural body art in no time.
Henna Powder
Henna powder is the best base to make a paste as it will give you the finest dye strength. You can sometimes find the powder at Middle Eastern or Indian grocers or alternative cultural stores. Before purchasing the powder, inquire about how long it has been on the shelf. If it has been at room temperature for a long time, it may have perished and lost its color. Also make sure it is well packaged because if it exposed to air and sun it will lose its dye capabilities. Look for the words "body art quality" or "BAQ" on the label. It may be safest to order online from a reputable distributor that ensures a good-quality product. Some examples of manufacturers are listed in the Resource section.
Citrus Juice
Any liquid that is acidic is required. Lemon or lime juice are usually used because of their pleasant smell.
Sugar
Sugar is an essential ingredient as it help maintains the quality and durability of the henna art. You can choose from a variety of sugars including white sugar, brown sugar, honey, maple sugar or molasses. You cannot use artificial sweeteners, however.
Essential Oil
Some artists say that essential oil is optional and enhances the appearance of the paste, whereas others include it as a necessary ingredient. You can use any 100 percent pure essential oil such as tea tree, eucalyptus or lavender oil. Do not use any oils other than completely pure ones, as others, such as fragrant oils, may take away the henna's ability to stain.
Recipe
Mix 100 grams of henna powder with citrus juice. (100 grams will yield 350 grams of paste). Add enough lemon or lime juice so that the powder is completely moistened and paste-like. Cover the bowl with plastic-wrap and place in a warm and dark place for up to eight hours. Do not place the bowl directly on a heater, however. Then, stir the mixture, adding 1 tbsp. of sugar and 5 to 20 drops of oil. Add a little more citrus juice until the paste is the same texture as toothpaste. You should wait at least an hour before using the paste and store it in the freezer when you are finished.