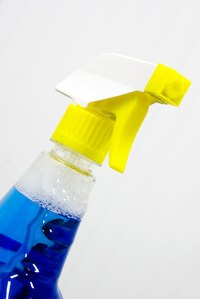 Residential and commercial cleaning companies provide their clients with a convenient way to maintain the cleanliness of their homes and businesses. As a cleaning business owner, it's essential to come up with the best ways to advertise your business to potential clients. Online and offline efforts can help generate leads and build business.
Purchase a Yellow Pages Advertisement
Purchase space in your local Yellow Pages to advertise your cleaning business. This traditional approach offers a variety of advertising options. Advertisements range from single-line to full-page. The bigger the advertisement, the higher your visibility will be; Entrepreneur Magazine suggests that consumers perceive companies with bigger ads as more established. Include the name of your business, your logo, the cleaning services you provide, a link to your website and phone number.
Join Social Networks
Social networks are a free way you can advertise your cleaning business to your target demographic. Sites like Facebook allow you to set up a page where you can advertise your businesses to customers by engaging in conversations and sharing information. Use social network sites to give potential clients the benefits of your cleaning services and provide them with cleaning tips and facts they can use.
Create Doorknob Hangers
Doorknob hangers are a traditional way service businesses like cleaning companies can strategically promote their businesses. Identify your target geographic market to map out where you can post your doorknob hangers and come up with an estimate of how many you need. Work with a graphic designer to create a doorknob hanger with your business name, logo, web address and contact information.
Distribute Promotional Products
Personalize cleaning-related products like dust cloths, sponges and spray bottles with your company's branding. Distribute these items at trade shows and community events and give them to your clients. These useful products last longer than other promotional items, like business cards, because clients can put them to use.
Join Local Business and Community Associations
Join local business and community associations to build connections with fellow business owners and potential clients. Offer free seminars on topics such as the benefits of a hiring a professional cleaning service, cleaning the "green" way, and helpful tips for keeping homes and offices clean.
Ask for Referrals
After establishing a customer base, no matter if it's small, begin to ask customers to refer you to friends, family members and colleagues who may be able to use your services. Word-of-mouth marketing is a tried and true way to expand a cleaning business.