Tuscan kitchens draw their colors from the land, sea, sky and earth. Food and wine also offer inspiration. Ceramics, art, flowers, fields ready for harvest, and the way the light changes during the day all contribute to the Tuscan theme. The Tuscan kitchen is the heart of the home. Its colors are warm and welcoming. There is not one Tuscan color palette but many, and, with the right choices, you can create this feeling in your own kitchen.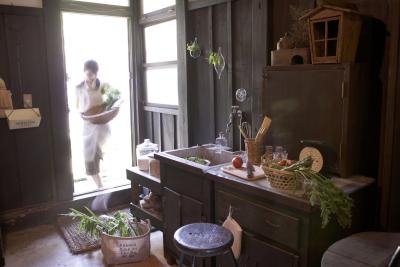 (MASH/Photodisc/Getty Images)
Earth tones in mellow shades of gold, yellow, green, blue, red, brown and orange form the base of Tuscan colors. Paint the walls the soft yellow of a ripe pear, or the gold of a sunset. Match the terra-cotta of a ceramic flower pot or the copper of a well-used cooking vessel. Pair the chocolate of newly turned earth with the soft blue of a Tuscan sky at dawn. Choose the cream of a traditional Tuscan farmhouse coupled with the grey of an overcast day. Borrow the beige of a centuries-old stone walkway and the green from a jar of olives.
kwasny221/iStock/Getty Images
Accent your walls with rich colors. Choose the lush burgundy of a bottle of red wine for the deep windowsills of an Italian farmhouse; paint the rest of the window trim sunflower yellow. Highlight the bottom half of a cream-colored wall with the bright red of a ripe tomato. Accent a soft yellow wall with grass green cupboards. Borrow the bright blues from a ceramic tile for the ceiling's crown moldings.
NA/Photos.com/Getty Images
Tuscan kitchen walls should reflect the age of the centuries-old farmhouses and villas they are mimicking. These walls were often stone covered in plaster or stucco and painted. Over the years they took on the patina that age brings. Duplicating the colors of antique Tuscan walls can be accomplished in a number of ways. Layers of different colors combine with the texturing process to produce an authentic look. Paint the textured wall with a base coat of umber and add a layer of white. While the paint is still wet, tap it with a sponge for an antique look. Combine a muted shade of gold with light beige. Paint the wall and, while the paint is still wet, draw the brush through it to mimic places the paint has worn off to expose the plaster underneath.
Szantai/iStock/Getty Images
Promoted By Zergnet