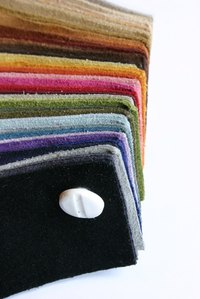 Suede is a type of leather with a napped finish. A favorite fabric, suede has earned a reputation as a high maintenance fabric. While you should use care and caution when cleaning suede, you can clean most suede items at home for little to no cost.
Prevent Stains
The best way to clean suede is not to allow it to become dirty. HGTV advises that consumers use a protective suede spray to prevent spills and moisture from coming in contact with the material. These protective sprays act as a barrier to repel moisture.
Cornell University's Cooperative Extension contends that a silicone spray works not only to prevent water and moisture from inflicting too much damage, but it also keeps dirt from building up on the the surface. Once sprayed, dry the item away from direct heat to prevent hardening or cracking of the suede.
Dry Stains
Cornell University advises cleaning dry stains like dirt and rock salt by brushing the boots with a dry sponge, towel, gum eraser or suede brush. Restore the nap of the item by brushing with a suede stone or brass brush. HGTV contends you can use a soft towel to dust away dry dirt.
In another environmentally friendly tip, remove makeup from suede by using stale bread, according to HGTV.
Wet Stains
HGTV advises to always clean suede according to the manufacturer's instructions and not with harsh chemicals found in the home. They also advise spot testing any cleaner in a hidden spot on the item.
For grease stains, Cornell University's website suggests dusting the item with a mixture of dry cleaning solvent mixed with sawdust. Never use a solvent alone because it will cause spots that will not remove.
Everyday Care
Regular daily maintenance for suede items is the best way to prevent damage. Air out items after each use, especially in the case of shoes. Protect coat and top collars with a scarf during use. Store items where the air can circulate around them.