Whatever color scheme you decide on, don't use colors from the bright red spectrum in your bedroom, as they're better suited to areas where you want to stimulate conversation or get your heart pumping. Bright, passionate reds stir up your energy rather than create a calming effect -- not an ideal color choice in the bedroom. There are much better warm color options for the bedroom, where you want to create a relaxed and soothing environment conducive to a restful sleep.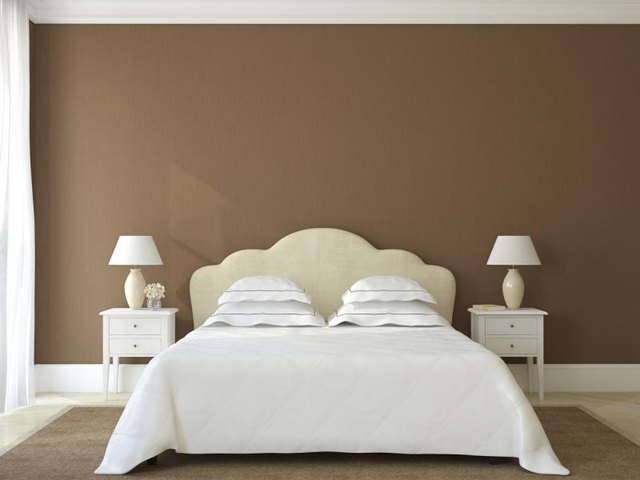 (poligonchik/iStock/Getty Images)
On an artist's color wheel, there are 12 colors: the primary red, yellow and blue; three secondary colors -- orange, green and purple; and six tertiary colors, generated by combing primary and secondary colors together to make red-orange, yellow-orange, yellow-green, blue-green, blue-violet and red-violet. The colors in the warm spectrum include variations of yellows, reds and oranges and some yellow-greens, all opposite from the cool colors on the wheel. Adding black to a color shades it; tinting adds white to make it more of a pastel color, and added gray tones the color down.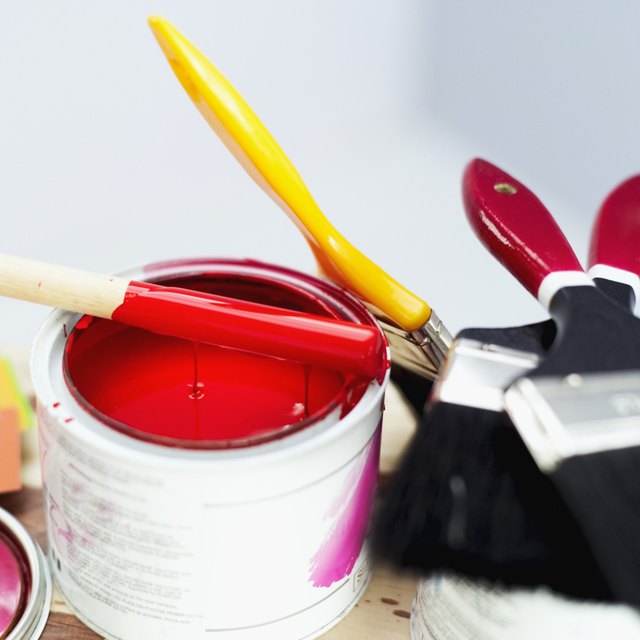 Stockbyte/Stockbyte/Getty Images
The paint color scheme you choose for your bedroom doesn't have to go on all the walls. You can create a focal point on one wall with a brighter, warmer hue, but tint, shade or tone down the color on the rest of the walls. You can use a brighter color on the trim around doors and windows, and along the baseboard or crown molding. You can also paint all four walls one color and use a different one for the ceiling. Warm colors make the colors advance into the space, while cool colors recede.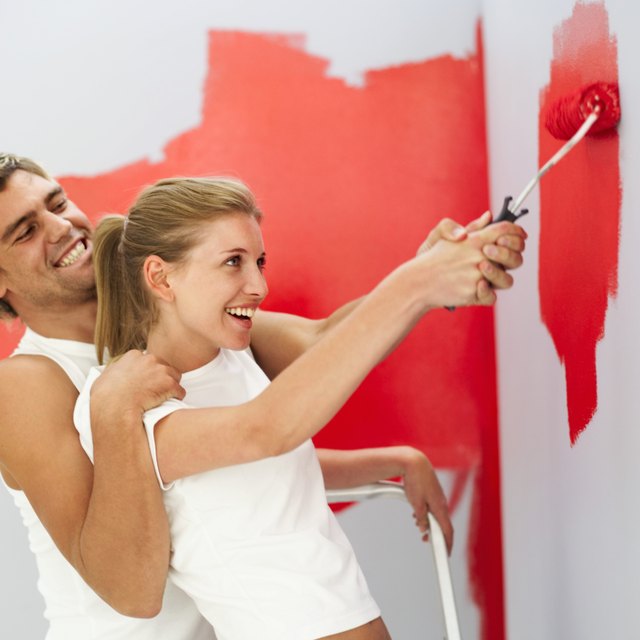 Stockbyte/Stockbyte/Getty Images
A soft tinted tangerine gives you a pastel shade that's appealing and warm, but not too invigorating in the bedroom. Add white to baseboards, and door and window trim for a clean look. Because warm colors advance into the space, they must be tinted, toned or shaded to use them in a bedroom so that they do not over-energize the space. But for the en-suite bathroom, you can use a more rousing color for early morning get-ready-for-work time. Soften the tangerine with accents in pale yellows and golds.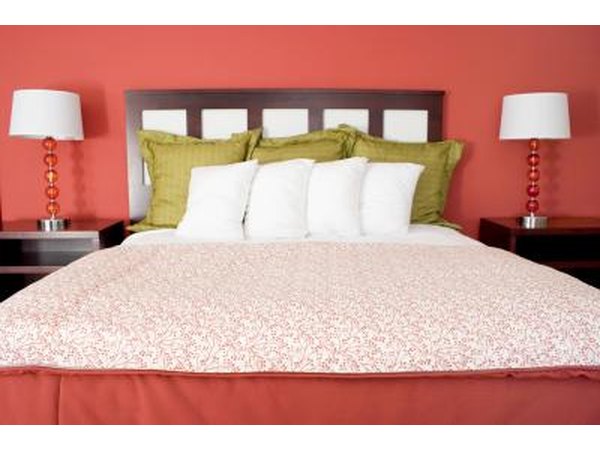 Rachel Donahue/iStock/Getty Images
One of the ways to bring a warm color into the bedroom without creating a stimulating effect is to add a golden glaze or color wash over a pale or muted yellow. Paint the room with the yellow base color first and allow it to thoroughly dry. Cover it with a gold-hued color wash or glaze for a mottled effect that's warm, but soothing. Add bronzed decor accents to the room in lamp bases and other metallic elements to tie into the golden hue on the walls.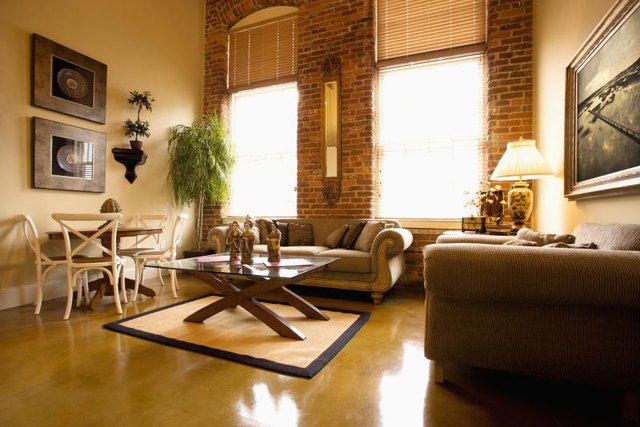 Ron Chapple studios/Hemera/Getty Images
Burnt umber creates a warm orange cast to brown, providing an excellent color choice for the bedroom. But don't use this color in small bedrooms, because it could make the space feel smaller. A lighter version of burnt umber on the ceiling can give the room more height, but the same color on all walls and the ceiling creates a cozier feel. Burnt-umber brown works well in a Native American decor scheme, with a handcrafted pale pine log bed and colorful handmade woolen rugs on the floor. A white faux fur animal skin on the wall creates a focal point above the bed. Paint trim antique white for a contrasting effect.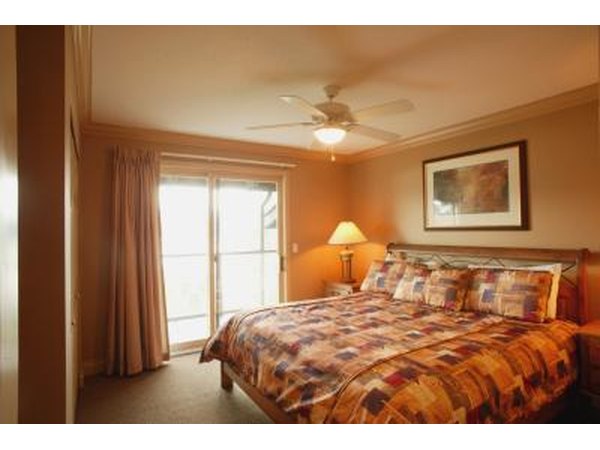 Design Pics/Design Pics/Getty Images
Promoted By Zergnet