Ramp up your home's curb appeal by adding decorative treatments to its exterior windows. Look to the architectural style and color scheme of your home to select accommodating window dressings. Some window decor, such as fully functioning shutters, retractable awnings and sturdy grills, can also help to protect your home against the natural elements and potential intruders.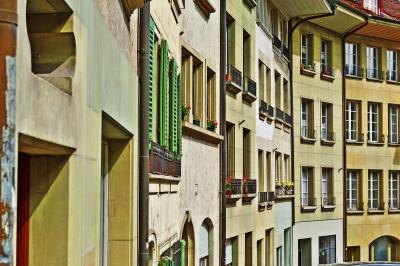 (gkuna/iStock/Getty Images)
Frame your exterior windows with decorative shutters to give your home a refined appearance. Choose rustic wooden shutters to complement a house with lodge-inspired architecture, or select contemporary folding shutters for a more modern design. Lightweight vinyl shutters provide an alternative to pricier wood types and are easy to install and available in a wide variety of colors to suit almost any exterior palette and style. Choose a shutter hue that contrasts with your wall color for a striking appearance, such as lime green shutters against chocolate brown walls. Add aluminum storm shutters to your exterior windows for a decorative treatment that also close to protect the glass against wind and rainstorms when needed.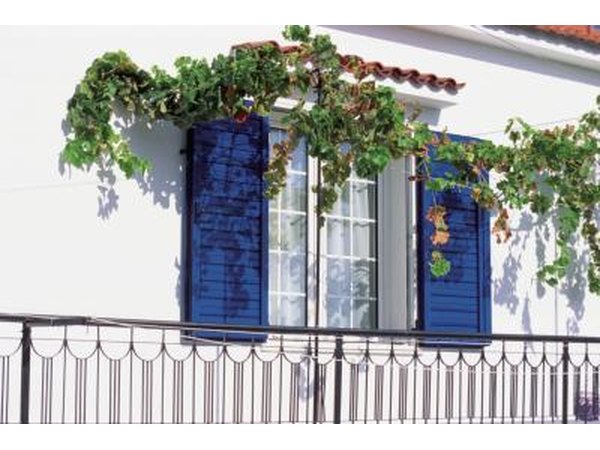 Medioimages/Photodisc/Photodisc/Getty Images
You can instantly brighten ordinary windows with the brilliant color and natural texture of blooming flowers, greenery and vines. White-painted window boxes filled with lipstick-red geraniums and dark green ivy make a cheery design statement under mundane windows. Alternatively, create a Tuscan-inspired look by attaching a wire basket filled with dazzling flowers sprouting from terra-cotta pots under each window. Or you can forgo the window boxes and baskets for climbing plants, such as hydrangea, star jasmine, clematis or wisteria that start in the ground and grow upward to cover a trellis adjacent to a window.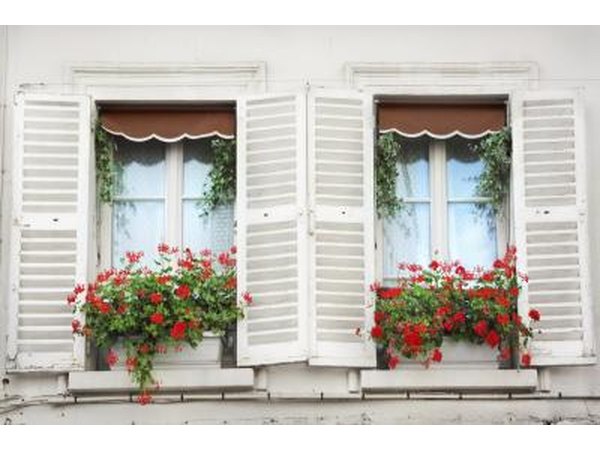 adisa/iStock/Getty Images
Boost your home's designer-savvy appeal by installing decorative metal grills over the outdoor windows. Opt for a fashionable grill that enhances your home's exterior palette and style. For example, pristine white grills with graceful curves look stunning against a modern-style home with charcoal gray walls. On the other hand, the detailed design of a Moroccan window grill mimics an intricate stained glass pattern to complement traditional architecture. In addition, because metal window grills innately provide some protection against prowlers, choose the type of metal -- aluminum, steel, iron -- to suit your safety needs and your region's climate.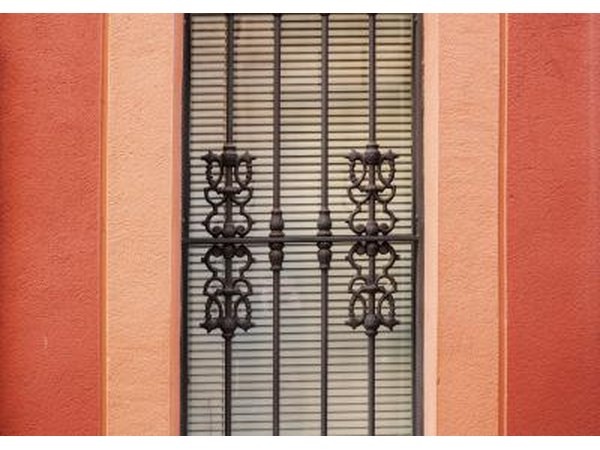 alika1712/iStock/Getty Images
Add a splash of color and practical function to your home's exterior by installing fabric awnings over your outdoor windows. Fabric awnings are available in assorted colors, patterns and styles to suit almost any window size and design. Choose a perky yellow-and-white striped fabric to boost the lively vibe of a beach-side bungalow, or select a solid navy blue awning for a more stately appearance. Not only do window awnings dress up your home's exterior appeal, they also provide shade to your interior spaces by blocking the sun's direct rays from streaming inside.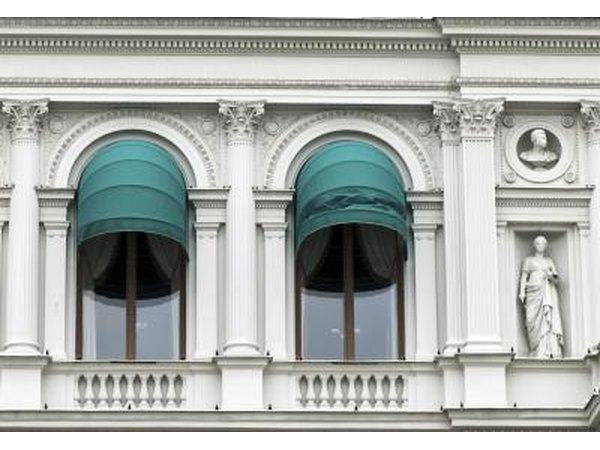 yuri chertok/iStock/Getty Images
Promoted By Zergnet