The words "cottage" and "charming" are often linked together, but the unspoken shadow side of the picture is "cramped." Every square foot of space counts in a true cottage, by nature a small home, and every detail is magnified in the intimate space. The challenge is to preserve the quaint, clever and evocative architecture while creating a livable, welcoming home. When you can't wave a magic wand, apply expertise from others and your own imagination for a space-enhancing renovation.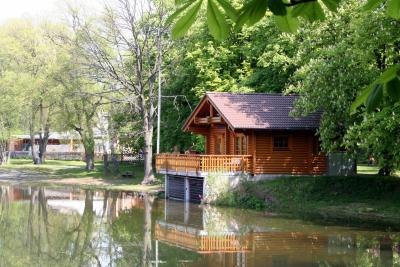 (Micha Fleuren/Hemera/Getty Images)
Rule one in cottage renovation is: Maximize light. That could mean raising low ceilings to the roof and eliminating a useless attic, adding skylights, enlarging existing windows or just leaving them bare so that every shaft of daylight pours into the rooms. Knock down unnecessary non-structural walls or partly remove them to create better flow and a sense of spaciousness -- and to take advantage of any light spillover from one room to the next. Counter the entry shade thrown by a front porch roof by painting the porch floor gleaming white to bounce sunshine in through the sidelights. Skip the shade or curtains in the bathroom and cover windows with film or replace clear glass with frosted so you can find the soap in the shower.
itpow/iStock/Getty Images
You can't go wrong with white in a cottage -- lots of white makes walls and ceilings disappear, and it blends with most decor styles. Try several shades of white to mark the boundaries of open rooms -- chalk white in the kitchen, oyster white in the dining space. Color private rooms in the palest of pastels -- blush bedroom, hint-of-lime bathroom or barely apricot guest room -- and use white trim throughout the cottage to pull all the colors together. Less-than-fabulous floors that are not scheduled for immediate replacement can go as white as the walls with sturdy high-gloss white floor paint. Change area rugs from season to season to add a touch of color or go lighter in summer, darker and cozier in winter.
mtreasure/iStock/Getty Images
The smallest things can make the biggest difference, and they might not cost you the price of a major overhaul. Change the hardware on dated kitchen cabinets that are structurally sound but living in the past. Blast those dingy walnut cabinets with several coats of creamy vanilla paint and swap the old knobs and drawer pulls for classic pewter cup pulls, a sleek style that goes with early 20th century, Mid-Century Modern and contemporary decor. Lose the pedestrian faucet and substitute a curved swoop of stainless or an old-fashioned bridge faucet and handles. Oil-rubbed bronze faucets and shower head in the bath can look elegant or rustic, but they'll never look old and tired. An odd circular or polygon-shaped window fitted with wavy, watery stained glass becomes a jewel-like focal point instead of a window-covering challenge.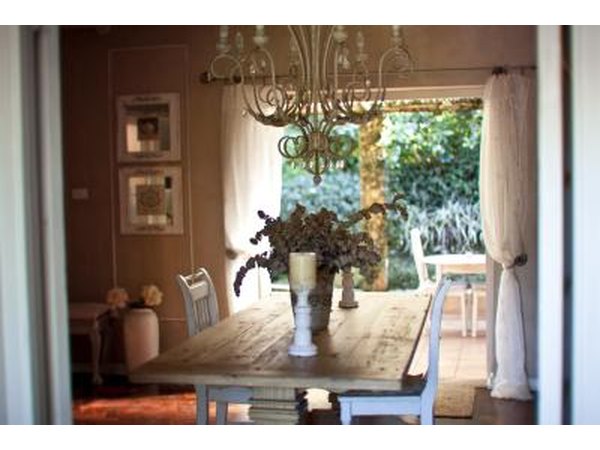 brodtcast/iStock/Getty Images
A kitchen work island fitted with beautiful stools on one side gives you extra counter space and extra seating for eating -- its a pizza dough-rolling station and a breakfast bar all-in-one. That amazing brick fireplace, the only pretense at an architectural detail in your new/old cottage, will be elegant, taller and more imposing transformed with a white paint job and a built-up surround and mantel constructed from boards and molding and painted to match. You can cover ugly laminate kitchen countertops with ceramic tile edged in white-painted wood. Beadboard or tin ceiling tile has enough character to make a good, inexpensive backsplash.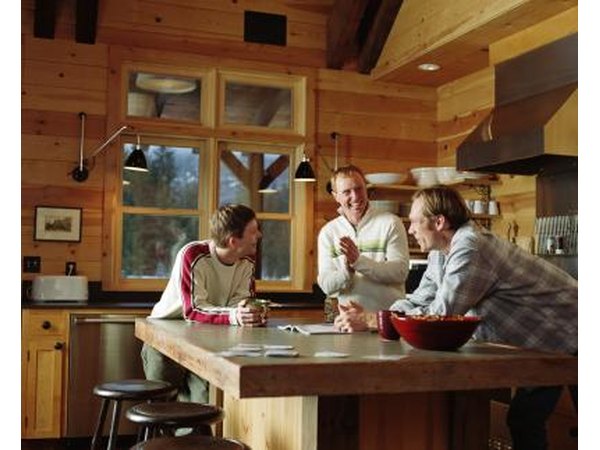 Chad Baker/Ryan McVay/Photodisc/Getty Images
Promoted By Zergnet