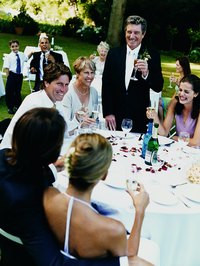 A wedding invitation might specify the dress code, but it likely doesn't outline what colors you should and should not wear. Dressing for the season and time of day, as well as avoiding a few key colors, will ensure you look your best at the next wedding on your social calendar.
Women in White
Only one woman in at the ceremony should be dressed in white: the bride. Avoid wearing a white dress or white separates, even in the summer when white attire is otherwise embraced.
To be safe, stay away from any shade in the light neutrals family, as well. Today's brides are wearing ivory, ecru and cream dresses, and you don't want to show up in a color that matches the bride's gown. As a result, avoid all white and cream hues when you're choosing a wedding look.
Women: All-Black Ensembles
A little black dress is the perfect look for special occasions, but you don't want to look somber at a wedding. While you can wear black dresses, avoid wearing black from head to toe.
So, if a little black dress is your dress of choice, jazz it up with a pair of colorful heels. Throw on a bold statement necklace or pair of sparkling chandelier earrings. Carry a colorful, beaded clutch for some added glitz.
When wearing black, break up the muted tones with color or embellishment in your accessories.
Women: Bold Red
A red dress makes a statement -- and that's not necessarily something you want to be doing at a wedding. Shy away from bold, attention-grabbing hues of red to avoid standing out in a sea of pastels.
Instead, choose softer hues from the red color family, such as coral for a spring or summer affair, or burgundy for a fall or winter wedding.
Similarly, if you do choose a soft red dress, ensure it isn't too sexy. While a figure-hugging red frock might leave you feeling your best, you want to leave a little to the imagination.
Color Rules for Guys
Even though men typically adhere to a suit or dress slacks and a blazer for weddings, color rules apply.
Wear seasonal colors. Choose a suit that matches the season. Wear dark -- black, brown and dark gray -- wool suits in fall and winter. Grab a lighter suit -- light gray, seersucker or khaki -- for spring and summer weddings.
Avoid white. Darker colors are safer choices for weddings, especially evening affairs that are typically more formal. Never wear a white suit or white sport coat, which will leave you looking like either a part of the wedding party or a member of the wait staff.