With a neutral background of beige, bright colored accents take center stage and you can redecorate as often as you like without needing to repaint the walls each time. This versatility makes beige one of the top colors for designers, decorators and home stagers. Beige adds warmth to bedroom walls and works well for layering shade upon shade.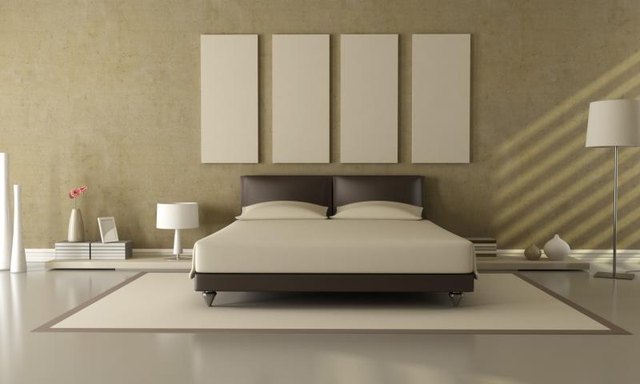 (archideaphoto/iStock/Getty Images)
Understanding each color's undertone can help you achieve a harmonious look when you're putting together a color palette for the bedroom. Beige has a light value of brown, a dark tone from the orange family that has been neutralized with the addition of black and white. The combination of red and yellow in the color orange gives beige an undertone of yellow or pink. Beige can also have an undertone of green, coming from shades of brown developed from mixing red and green.
Gather multiple beige paint chip samples and bring them home to view the colors under the lighting in your bedroom. To determine the undertone in a shade of beige, hold it next to the pure color or its complementary opposite. For example, if a shade of beige has a pink undertone, it's easy to spot when you hold the sample next to a red or green fabric. Don't mix shades of beige with yellow and pink undertones. Pink beige looks dirty next to yellow beige. Shades of beige with yellow and green undertones work well together.
In a bedroom with natural wood furniture or wood floors, choose a shade of beige that complements the tones of the wood. Color expert Maria Killam advises against shades of beige with pink undertones when you have honey oak furniture, trim or flooring. The yellow and orange undertones of the wood muddy the look of pink beige, which is a better fit with darker wood tones of red or brown.
Shades of beige with yellow and orange undertones enhance the warmth of oak or pine. Choose a darker shade of beige, closer to brown if you want more contrast with light-colored wood. Conversely, a light shade of wheat or tan brings out the toasty brown notes of walnut or teak wood.
Beige walls mixed with earthy, organic textures give the bedroom a casual, relaxed feel. Accent sandy beige walls with a sisal area rug, a sea grass headboard and bed frame, and pieces of coral displayed on the dresser. Accents in aqua blue or turquoise add a beach vibe.
Use a warm caramel shade inside a tray ceiling, painting the layered molding in a creamy white. With a lighter shade of tan on the walls, the ceiling appears closer, making the bedroom feel cozier. Draw the eye with accents in fiery orange.
Deeper tones of beige bring a warm, comforting feel to the bedroom. Go dark and dramatic on an accent wall behind the bed with a rich chocolate brown. Repeat this color on a throw draped casually over the foot of a bed layered in white and light beige bedding. Paint the remaining walls and ceiling in a lighter shade of latte, and contrast the warmth of the walls by painting the trim a crisp white.
A hybrid mix of beige with the color gray creates a new neutral called greige. The color has made its way into the palettes of many designers for a fresh, modern look on bedroom walls. One of the top five beige paint colors favored by designer Jane Lockhart is a gray-toned hue by Benjamin Moore called Stone Hearth. Lockhart recommends it with light maple or blonde wood and accents of black or charcoal, for a sophisticated, updated feel.
Greige is a good choice for a child's bedroom; the color creates a neutral background that works beautifully with brighter accents in purple or blue. According to Neal's Home Remodeling and Design Blog, Sherwin-Williams' Accessible Beige was listed on Pottery Barn's fall 2013 color palette for kids' and teens' bedrooms. Mega Greige, also by Sherwin-Williams, is recommended for a boy's bedroom by McClurg Remodeling and Construction Services.
Promoted By Zergnet