Craftsman homes were built in the U.S. during the last part of the 19th century through 1930. As the name indicates, they include plenty of hand-worked craftsmanship. These homes were built on a raised foundation and sided with wood, stone and brick. Inside they contain inset-paneled wood wainscoting, a breakfast nook in the kitchen, hardwood floors and banks of windows, also framed and silled in wood. On the exterior, you'll find wide portico-type porches supported by thick wood columns, or columns faced with brick or stone, part or all of the way to the roof. Stick to the Craftsman theme when renovating a 1920s bathroom by using age-appropriate fixtures, color schemes and natural colors.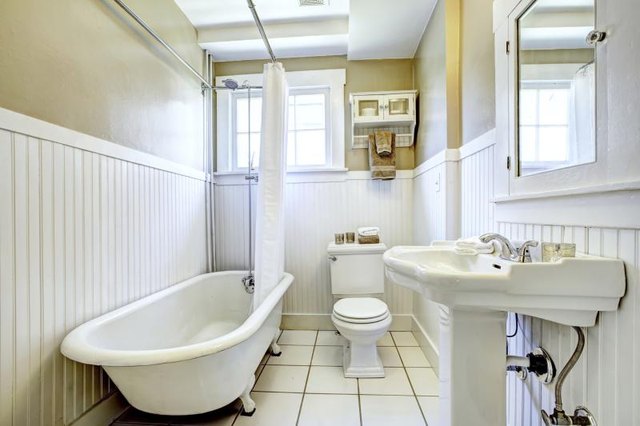 (irina88w/iStock/Getty Images)
Instead of a long bathroom vanity with two sinks, opt for two standalone white porcelain pedestal sinks set against white square tiles, in keeping with how most of these bathrooms were outfitted. Above the sinks, install a bank of three white mirrors that cover medicine cabinets. If you don't like the idea of hardwood floors in the bathroom, install cork or a waterproofed laminate on the floor. Opposite the sink, you can lounge in your white, full-size refinished claw-foot tub when you need to decompress.
Adam Reed/iStock/Getty Images
In a small bathroom, hang a modern, rectangular wall-mounted sink to create the illusion of more floor space, with an Art Deco style mirror above. Tile the floor in large, natural stone 12- or 18-inch tiles to add to the illusion. Paint the walls in a soft green or pale yellow, and add lighting elements that replicate the gas fixtures of old. Add brilliant chrome plumbing hardware to outfit the claw-foot tub with a shower. An oval, ceiling-hung shower curtain rod along with the hardware renovates the bathroom into a tub-and-shower combo.
IPGGutenbergUKLtd/iStock/Getty Images
Install small subway tile on the bathroom floor in white, but border it with a mosaic tile offset from the wall about 4 inches and at least 6 inches wide. Choose an artistic design, a pattern or geometric shapes in light and dark blue. Install cottage-style wainscoting on the walls, painted country white with inset panels. Keep all the fixtures white, but decorate your bathroom in an ocean theme, with small white shutters on the window for privacy. Add a decanter of seashells, a ship at sea painting or print, and a starfish as decor elements on the pale blue walls. In a white wicker basket close to the tub, add natural sponges and thick white luxurious towels rolled up to display their sea-blue band. Add darker blue towels pulled from the color in the tile border to hang on the towel racks near the pedestal sink.
irina88w/iStock/Getty Images
The Arts and Crafts movement that traveled across the Atlantic to America from England began as a rebellion against the industrialization brought about during the Victorian era. The focus in these homes included lots of dark, rich woods and custom features. But sometimes all that wood can be too much. In the bathroom, leave the wood wainscoting, but paint it. Choose color schemes for the bathroom with themes from nature: pale blue-grays, gray-greens, monochromatic muted blues, or earthy color schemes that use brown, cappuccino and a touch of ocher red.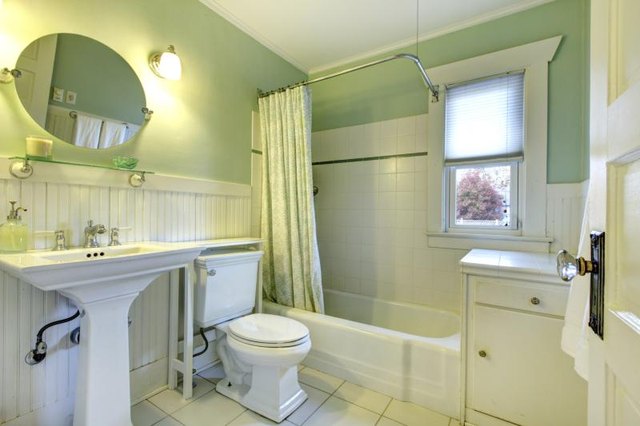 irina88w/iStock/Getty Images
Promoted By Zergnet