Baked potatoes are a delicious and satisfying meal option. An innovative way to enjoy them is setting up a baked potato bar. This is a good idea for any number of events: a company luncheon, brunch, church supper, slumber party, dinner with the gal pals or just a weeknight dinner that the kids won't find boring. Simply set out the potatoes and remember to be creative with the toppings you provide.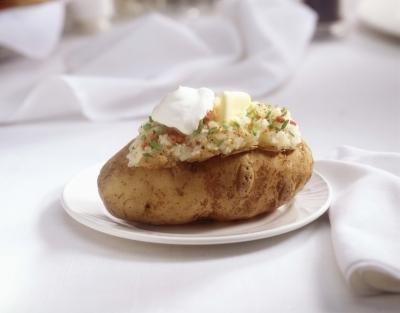 (Jupiterimages/Comstock/Getty Images)
The traditional baked potato has stood the test of time because it is very well loved. So much so that there are even baked potato pizzas and baked potato-flavored potato chips. So make sure diners can enjoy this classic version of the dish by providing salt, pepper, chives, sour cream, bacon bits, butter and shredded cheddar cheese. If you're serving someone who is on a diet, provide low-calorie or fat-free options.
Jupiterimages/Comstock/Getty Images
In the cheese section of your potato bar, think outside of the monotonous cheddar box. Set out uncommon choices such as shredded pepper jack, Colby jack, Swiss or mozzarella. Consider a few cheeses not normally thought of as potato toppers such as ricotta or goat cheese. Or make Parmesan crisps by spooning tablespoons of grated Parmesan cheese onto a cookie sheet and baking until the cheese melts and forms a crunchy crisp.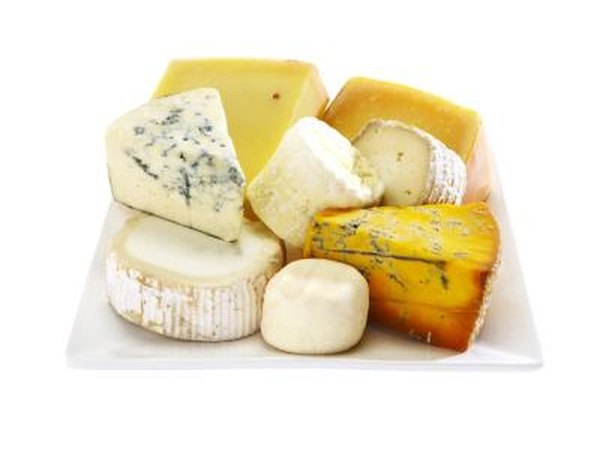 Thomas Northcut/Digital Vision/Getty Images
Build on the classic bacon bits idea and provide a few meats for diners to pile on their potatoes. Pulled pork, Italian sausage, chicken, ham, ground beef or strips of steak are yummy options. You can also provide seafood: scallops, flaked fish or grilled shrimp. For kids, set out mini meatballs or sliced chicken fingers. Or let kids make "taco potatoes" with taco meat, shredded Mexican cheese, lettuce, sour cream and crushed nacho chips.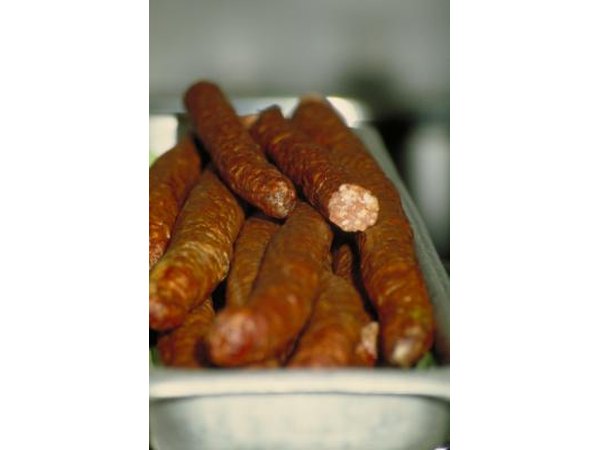 Jupiterimages/Photos.com/Getty Images
Don't forget vegetarians. The options for no-meat potato toppings are plentiful. You can set out meat substitutes such as soy sausage crumbles, seasoned tofu or soy pepperoni, or natural proteins such as marinated mushrooms, cooked black beans or red kidney beans. Provide salsa or a plentiful array of veggies such as steamed broccoli, sautéed green, red and yellow peppers, caramelized onions or roasted eggplant. Another excellent idea non-meat eaters will much appreciate is a hearty vegetarian chili to spoon over a baked potato.
Brand X Pictures/Brand X Pictures/Getty Images
Promoted By Zergnet