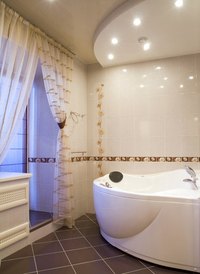 When your bathroom is old and outdated, remodeling can give it new life. If you want to update your bathroom without breaking the bank, look for inexpensive projects that will give the room a facelift without requiring structural modifications. Choose remodeling options that are within your skill level; in most bathrooms, you can complete a project over a weekend or even a full day.
Update Cabinets
Because bathroom cabinets take up a good deal of space, giving them a new look can change the atmosphere in the room. Depending on your skill level, you can update cabinets in a number of ways. For a quick update, add a coat of paint in a new color or a clean white to brighten up the room. If you want a more extensive shift in the look, sand the cabinets and add a coat of stain for a rich appearance. You can also stencil designs onto the doors or add fabric inserts that you can change out easily.
Change Shower Covering
For a cheap update to your bathroom, change the shower covering. If you are looking for a true low-budget project, add embellishments to your existing shower curtain. Use paint to decorate a plastic curtain or add ribbons or embroidery to a fabric curtain, or buy a new shower curtain that works with the existing colors of the walls and cabinets. If you have the money, invest it in a new shower door; in doing so, you can make your shower and tub look as though they have been redone.
New Fixtures
Give your bathroom a modern look without replacing the wall coverings, tub, shower or toilet by adding new fixtures. Look for new sink faucets and shower heads that give your bathroom a specific look, from sleek and modern to ornate and glamorous. Choose fixtures that work with your existing design so that you can update the look without spending more money on a new design scheme. To reinforce the look, add similar hardware to your cabinets and drawers.
Lighting
New lighting can change the entire look and atmosphere of your bathroom. If the room has old lights or unflattering fluorescent lighting, you can set a more romantic mood with soft lights. Make sure that your lights reach all areas of the room to avoid dark corners, and add soft lights around the bathroom mirror to cast an even, diffused light on your face. If you want to make the most of your new lights, add a pale coat of paint to the walls to give the room a clean appearance.