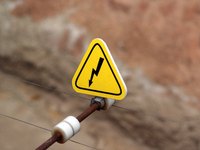 A workplace assessment evaluates the possibility that an individual could be harmed by a hazard within a company, along with the seriousness of the harm. Completing an assessment not only helps protect workers, but keeps a business in compliance with the law. Assessing business risks and following through with procedures can help a business protect its most valuable assets.
Hazard Identification
Identify hazards in the business that could harm others. To do this, walk inside and outside the building and try to find items that could cause any degree of harm, and take note of them. You can also hold a meeting with all your employees and allow them to remark on areas of the workplace they feel pose a risk. If time constraints do not allow for an engaging discussion, ask employees to fill out a questionnaire regarding workplace risks.
The Health and Safety Executive (HSE) website states that reading the instructions on machinery and chemicals can help you identify and assess business risks. You should keep long-term health and safety hazards in mind, such as exposure to chemicals or loud noises. Additionally, examining past accident logs and employee health trends (such as identifying the months of the year employees called in sick the most) can help you identify risks that are not as obvious.
Employee Exposure
Know which individuals can receive harm from each business risk. This practice helps you know which groups of employees are exposed to particular health and injury hazards, and helps you determine how to best manage the risk. For example, you may notice that a person in a storage room could receive a back injury from not lifting boxes correctly. HSE states that some employee groups, such as migrant workers, those with disabilities, young workers, new hires and expectant mothers, are more at risk for harm. Other individuals to keep in mind when assessing business risks include part-time workers, contractors and the public.
Controlling Risks
Identify ways to control risks after evaluating them. When examining a risk, see if there is a way to eliminate it or to control it so it poses less of a danger. Ways to eliminate or control risks can include using less risky options, such as using cleaners with safer chemicals or not allowing access to a hazard, like keeping box cutters under lock and key. Reducing exposure to the hazard, such as implementing a fragrance-free policy in an office, making employees use protective gear and clothing, and providing easy access to first aid kits and washing facilities are others ways to control risks. Employees can also help reduce and control risks by continuously reporting risks and hazards to the appropriate staff.
Sharing the Findings
Write down the results of your assessment in a report, share the findings with your staff and implement the new safety protocols. HSE states that your assessment report should be simple, showing that the risks were investigated by analyzing who could be affected by the risks and how, and describing precautions that lessen the risks. For example, a report could state that employees often trip over items while carrying large boxes. Consequently, your precautions could include directing employees to not carry items that impair their lines of sight, properly covering all electrical cords in pathways with tape and ensuring that no one leaves items in walkways.
Continuous Assessments
Take a second look at the assessment, inspect the business often for illness and injury trends, and make updates when needed. As soon as a new risk appears, investigate its cause, learn who it could affect, and control or eliminate the risk.