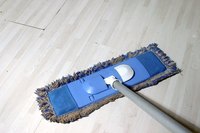 Starting your own cleaning business can provide a steady part- or full-time income without the expensive startup costs of many other home-based businesses. With little more than some flyers and the cleaning supplies you already own, your home cleaning business can be up and running. And by keeping a few important principles in mind, your cleaning business can remain successful and profitable year after year.
Supplies Needed
You can begin your home cleaning business with the household cleaning supplies you already own. But ideally, your cleaning supplies should include a broom and dustpan, a mop, soft scrub with bleach, wood floor cleaner and a wood floor mop, a dust mop, furniture polish, window cleaner, bathroom cleaner, stainless steel cleaner, terry and microfiber cleaning cloths, steel wool pads, a small toothbrush and a grout brush. You may also want to keep a step ladder handy for high, hard-to-reach places.
Advertising
You most effective advertising is word of mouth. Tell everyone you know that you're starting a home cleaning business and ask them to help you spread the word. Once you've landed some clients, they'll also be sources of word-of-mouth referrals. You can also generate new clients by placing an ad in your local newspaper and on free online classified ad sites, distributing fliers, handing out business cards, using a magnetic sign on your vehicle, distributing door hangers, and especially by building your own basic website to promote your services.
Setting Your Prices
Setting your prices begins with some research: call some cleaning services in your area to get an idea about what your competition is charging and what services they offer. Estimate how much time each job will take and then quote new clients with a final price for the job rather than an hourly wage. Use a quote sheet to professionalize your business and avoid misunderstandings later. Expect payment after each cleaning, and don't be afraid to charge as much as you're worth. Never under-bid just to get a job.
Insurance and Bonding
Many potential clients worry about allowing a relative stranger into their home. One way you can combat this fear is to become bonded through your local insurance agent. For about $100 per year as of January 2011, you can be bonded against loss. Add liability insurance to further re-assure your clients that there is no risk in hiring you to clean their homes.
Taxes
As a business owner, you are liable to withhold your own taxes and submit them on time. Keep careful records of your income and expenses, and set aside enough money to pay your taxes as you earn it to avoid a big, unpaid tax bill at the end of the year. Don't forget to keep track of your mileage (for a tax deduction) and to keep all of your receipts.
Hiring Help
Your business may grow to the point that you need help to service all of your clients. Start slowly and hire only one person at a time. Train them yourself and use them sparingly until you're sure they can be trusted to do a great job. Be aware that employees and sub-contractors are treated differently under the tax code, and be careful to delineate your employee's actual status at the start of their employment.