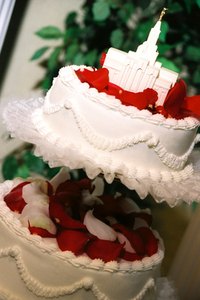 Cake decorators create elaborate or simple designs on pastries and cakes. The professional cake decorator may specialize in wedding cakes or create designs for any occasion. Designers work in frosting and other edible materials to create a cake that meets the needs of the customer. As of November of 2010, the average salary for a professional cake decorator is between $18,982 and $26,979 according to Payscale.com.
Location
Factors such as location play a part in the hourly rate a cake decorator can earn. The highest paying city for cake decorators in the United States is Seattle, Washington, with hourly rates between $13.89 and $14.90, as of November 2010. Cake decorators in Raleigh, North Carolina earn average hourly rates between $8.83 and $12.21. Cost of living and demand for professionals in the field play a role in determining the hourly rate for cake decorators.
Education
Interestingly, cake decorators with no degree earn the highest average hourly rates, according to Payscale.com. Those without a degree earn between $10.29 and $20 an hour while those with an Associate Degree in culinary arts earn hourly rates between $8.36 and $11.38.
Experience
Cake decorators with 20 years or more experience in the field earn the highest hourly rates between $10.06 and $14.97 while those with a year or less experience as cake decorators earn between $7.67 and $9.22 per hour. For those with 10 to 19 years of experience, the average pay rate is between $10.34 and $14.36 per hour, which is close to those with more than 20 years experience.
Employment Type
Cake decorators who contract with an employer earn the highest salaries, which are between $9.72 and $16.43 per hour. Those working for a private firm earn slightly lower salaries between $9.06 and $14.12 per hour and self-employed cake decorators earn hourly rates between $8.62 and $12.77 per hour, as of November 2010, according to Payscale.com.