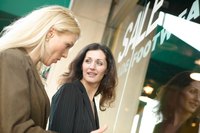 Your marketing plan is only effective when you can pinpoint what's working. Tracking mechanisms allow you to retrace your customers' steps to determine how they got from their door to yours. Think of how valuable this is: If one activity brought no customers, you can stop doing it and dedicate those resources to the tactics that worked. Remember that not all marketing activities work for all companies, so if your competitor is doing something that doesn't work for you, it doesn't mean you're doing anything wrong -- it may simply mean that your customers' habits are slightly different.
Ask the Question
Don't underplay the effectiveness of a simple question: "How did you hear about us?" Keep the question friendly and conversational so it's not intrusive. If you're on the telephone, write down the answer. You can include it on credit card receipts or feedback cards. Compile responses in a spreadsheet, and update your marketing plan accordingly. If you had a phenomenal response rate to opt-in text message discounts but a dismal one for a radio advertisement, you can increase one activity and eliminate or scale back another.
Manipulate the Mechanism
One easy way to add a tracking mechanism to promotional efforts -- advertising, public relations and sales promotions -- is to publicize a separate number for inquiries. You can track the number of calls and orders fulfilled or other customer inquiries as a percentage of that number. A similar option is differentiating your offers for each promotional tactic. For example, you can track an instant rebate at the point of purchase or advertise a larger size for the smaller-size price in your newspaper advertisement if the customer brings the ad with him.
Internet Interest
Clue your website manager in on your marketing plan so he knows what to track and report. He can measure "click-throughs," which are how many times a visitor clicks on a certain page or link. The website administrator then determines how many times those clicks led to a sale. He can develop a unique URL, or website address, for each specific promotion that diverts to your website. By tracing the click back to that unique URL, you can then measure the number of respondents and then calculate the sales ratio. Requesting the visitor or customer to opt-in to special offers adds longevity to Internet-based tactics; armed with their contact information you can now facilitate repeat business and add customer support.
Imprecise Impressions
Public relations tactics such as press releases and reporter interviews are hard to track; even if you get your press release reported in the media or a story in the business journal it's hard to measure if or how it met your marketing objective. This is why pre-marketing campaign surveys are important so you can execute another survey after the campaign and measure the difference. While they are not necessarily statistically precise, make the most of free online survey and social media tools for your "before and after" measurements.
Special events present a similar challenge. Engage visitors with an attractive offer that requires them to give information -- that way you can track how many signed up. Examples include free gift offers or a customer loyalty or referral program.