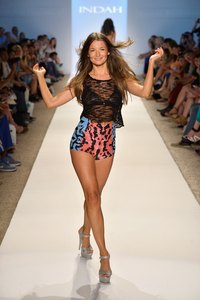 Whether you are a teen beginning your foray into the world of shaving your bikini line, starting to wear swimsuits that require more grooming than you are accustomed to, or if you just cannot seem to shave without irritation, take comfort in knowing the process is an art. Fortunately, countless women and beauty editors before you have narrowed down effective ways of approaching the bikini line shave, so you can wear your bikini with pride.
Prep Well
Take a warm shower or bath and soap up before you even consider shaving. It is important to wash away any bacteria on skin before shaving to avoid infections or irritation. Also consider gently exfoliating the skin with a light scrub or gentle wash cloth to promote a close, smooth shave. Choose a razor with a lubricating strip and more than one blade for a thorough shave. Before shaving, apply a lubricating shaving cream or gel. Reach for a sensitive-skin formulation to stay on the safe side. After these steps, you are officially prepped.
Be Gentle and Precise
A razor is a sharp tool and the skin on your bikini line is delicate and may become irritated easily. Create an even surface to shave along by pulling skin tight to avoid nicking yourself. Gently shave against the hair's natural growth direction for a close shave. Reapply cream or gel as necessary to prevent razor burn. If you find that razors tend to bother your skin, consider an electric razor for something more gentle. Electric razors cut the hairs through quick vibrations. Once you are finished and gently patted dry, try your bikini bottoms on to test your precision. If you need to do a bit more grooming, hop back in the shower. With practice, you will become better at matching your shaving to your swim suit.
Replace Your Razor
If your razor has been in your shower for a while, check the lubricating strip and the blades. If the strip looks dull or if the blades look dirty or rusty, it's past time to swap out the head or reach for a fresh disposable razor; in general, you will probably get approximately five uses before it is time to replacement. In addition, rinse your blade and place it somewhere such as a razor hook where it can dry. Rinse the razor under warm water before each use, as well. Fresh blades create a closer shave and decrease the chance of spreading bacteria.
Prevent Bumps
Shaving for a bikini includes keeping that bikini line smooth and bump-free for a carefree summer. Looking for shaving gel that is formulated to prevent bumps instead of alternative shaving gels or creams. In addition, when you are done shaving, you can apply a product formulated for the bikini area that includes salicylic acid, which helps exfoliate skin, reduces bacteria and, as a result, prevents bumps and ingrown hairs. Just follow the directions on the product's package.